Laura DeWald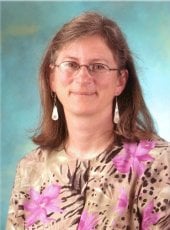 Laura received her bachelor's degree in Forestry from Michigan Tech in 1980. She received her master's degree in Forestry from Penn State in 1982. In 1986, Laura was the first woman to ever earn a PhD in Forestry from Virginia Tech.
From 1986 to 1994, Laura held research and teaching positions in Forestry at various academic institutions including the University of Minnesota, the University of Florida, Warren Wilson College, and Green River Community College. In 1994, she became an Assistant Professor of Genetics and Conservation Biology at Northern Arizona University. In 1998, she was promoted to Associate Professor and in 2003 was named Associate Dean of NAU's School of Forestry. Since August of 2004, Laura has been with Western Carolina University as Coordinator of the Environmental Science program and a faculty member in the Biology Department, Geosciences and Natural Resource Management Departments, and the Environmental Science Program.
Laura has authored numerous publications in the forestry field, and currently has a book in progress (expected to be published in 2006), Introduction to Forestry: The Art and Science of Managing Forested Ecosystems. Throughout her career in academia she made numerous professional presentations. She is active in the Society of American Foresters and has held a variety of leadership roles in the organization. She is the Secretary/Treasurer of the Western Forest Genetics Association.
Laura is a recipient of the College of Ecosystem Science and Management Teaching Award, and has received twenty-two research grants over the past ten years totaling more than $1,200,000.
While at Michigan Tech, Laura was a member of the Forestry Club and the honorary forestry society, Xi Sigma Pi. As an alumna, she continues to stay involved with the University by providing annual financial support.
Laura currently resides in Sylva, North Carolina.
From the 2005 Presidential Council of Alumnae Induction.