Debra Larson, PhD, PE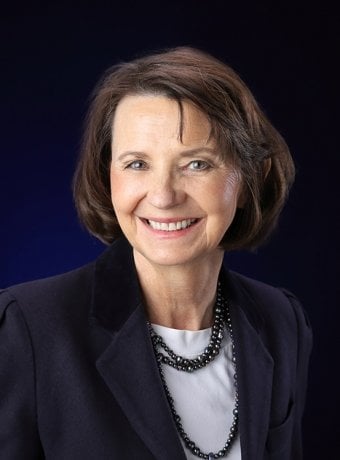 BS Civil Engineering 1978
MS Civil Engineering 1981
Larson graduated from Michigan Tech with a Bachelor's Degree in Civil Engineering in 1978 and followed it up with a Master's Degree in Civil Engineering in 1981. She hails from Ishpeming and is fond of her Yooper roots.
Her professional career includes stints with private engineering and manufacturing companies in Arizona, Washington, Idaho, Oregon and Wisconsin from 1981 until 1989. Then in 1994 she received her Civil Engineering PhD from Arizona State University and began Phase Two of her professional career – this one in academia.
Larson currently serves as the provost and vice president of academic affairs California State University, Chico. Chico State is a Hispanic-serving institution and a comprehensive university of nearly 15,000 students. During her five plus years at Chico State, she has accomplished much, including: the successful reorganization of its research and sponsored program units, growth of on-line curricula, and strengthening Academic Affairs' focus on enrollment, student success, and EDI.
From 2011–2017, Larson served as dean of the College of Engineering at California Polytechnic State University in San Luis Obispo, (Cal Poly); a highly regarded College of over 6,500 students. She was the College's first woman dean. With humor, common sense, and strategy, Larson transformed a mission-confused college into one the nation's top undergraduate engineering colleges that emphasized learning by doing and career readiness. During her tenure, Larson raised $65.7 million in philanthropic gifts and significantly grew corporate partnerships. She launched or strengthen many initiatives including cybersecurity, innovation and entrepreneurship, assistive technologies, and safety. She supported and added programming to attract and retain a more diverse student body in engineering.
Before moving to the CSU, Larson had a successful 17-year academic and administrative career at Northern Arizona University. She served in a variety of positions including associate vice provost, associate dean, department chair, and faculty. Larson valued NAU's mission of access, affordability, and quality. She served for more than 10 years with the Greater Flagstaff Forest Partnership.
As a student, Larson was a member of the Society for Women Engineers, the American Society of Civil Engineers, Chi Epsilon Honor Fraternity, Blue Key and the Graduate Student Council. She was also involved in Husky athletics as a member of the ski and volleyball teams.
Larson has received numerous awards and recognitions throughout her career including but not limited to: Lifetime Member to the American Society of Civil Engineers (2022); Distinguished Civil Engineering Alumni Award (2018) and Distinguished Achievement Award (1994) from Arizona State University; Distinguished Service Award (2008) and Presidents Award (2006) from the Arizona Society of Civil Engineers; the Boeing Outstanding Educator Award for Design4Practice: Engineering Design through the Curriculum at NAU, 1999; and Outstanding Teacher Award, Pacific Southwest Section of American Society of Engineering Educators, 1999.
At Michigan Tech Larson has been honored with induction into Civil and Environmental Engineering Academy in 2011, the Presidential Council of Alumnae in 2014, and the College of Engineering's Academy for Engineering Education Leadership in 2022.
Updated October 2022