Deborah See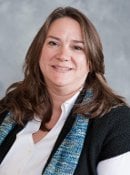 BS Electrical Engineering 1989
Deborah See earned a bachelor's degree in Electrical Engineering with a minor in Computers in 1989. She is currently a project manager at Extreme Technologies in Minneapolis, Minnesota. Extreme Technologies creates and manufactures V.I.O. point of view video cameras.
After graduation from Michigan Tech, Deb started her career as a firmware engineer for the Cellular Base Station division of Motorola in Arlington Heights, Illinois, supporting existing products and adding new features to the base station. Following two and a half years with Motorola, Deb moved to the San Francisco Bay Area, and worked for Condor Systems in Campbell, California, working on Electronic Intelligence products used for signal detection and identification for government use. In 1994, she and her husband moved to Folsom, California, where she started with Intel Corporation.
During her 14 years at Intel, Deb advanced from Senior Firmware Engineer in the Flash Memory Division, to become Manager of the software team. As part of her work, she authored or co-authored nine patents, mainly in file management of flash memory. Deb and her family then moved back to Houghton in 2004, where she continued to work for Intel remotely as the Flash Memory Software Strategic Planner, coordinating with marketing and engineering to create and maintain a timeline for embedded firmware products and features created by the global team of roughly 100 engineers in Folsom, China, Russia, and Italy.
In 2008, Deb started with V.I.O., Inc. in Marquette. This job transitioned to Extreme Technologies in 2012, through the purchase of the V.I.O. brand and product line. In her current position Deb manages products throughout the product life cycle, assisting with product definition, driving product completion, and assisting with transition and support to manufacturing and customer support.
As a student, Deb was a member of the Michigan Tech Student Foundation and also a resident assistant in West Coed Hall from 1986 to 1988. She was a member of the Society of Women in Engineering and IEEE, a Delta Sigma Phi Little Sister, and involved in several intramural activities. During the last few years Deb has given presentations at Michigan Tech covering jobs in the industry as well as work/life balance. She has worked with the Enterprise Program as a judge for the Undergrad Expo and worked with the Integrated Microsystems Enterprise team of the Enterprise Program on a Michigan Initiative for Innovation & Entrepreneurship grant cooperatively with V.I.O.
In her community, Deb has been the treasurer for a local Cub Scout pack and has worked as a volunteer for a local head start program.
Deb and her husband Scott ('89 Business Administration and '06 Industrial Archaeology, and currently a PhD candidate) live in Houghton, Michigan with their children Cameron and Cassidy.
In recognition of Deb's significant achievements, she was inducted into the Presidential Council of Alumnae (PCA) in 2012.
Excerpted from the 2012 PCA Induction Ceremony Program.