Dave Chaudier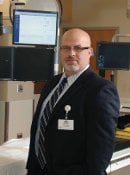 BS Business Administration 1993
Dave Chaudier '93 has a four-part approach to work: "Don't fear failure, don't let anything surprise you, learn from your mistakes, and don't put up with anyone's negativity."
As the vice president of operations at St. Luke's Medical Center, the largest hospital in Wisconsin's Aurora Healthcare system, Chaudier applies this pragmatic philosophy to leading the cardiac, surgical, and radiology services lines, and hospital support departments including central services. He is responsible for more than one thousand caregivers, over $200 million in expenses, and total charges of more than $1 billion.
One of the youngest vice presidents at Aurora, Chaudier employs business strategies that impact patient care.
"My primary goal is to take care of the caregivers so they can provide the best care and experience to every patient we serve," he says. To that end, Chaudier set a goal for 2010 to increase caregiver engagement and patient loyalty scores while cutting $13 million in costs, improving scheduling, and streamlining internal processes.
A career in health care management was not always in the cards for Chaudier, who initially entered Michigan Tech as a mechanical engineering student but switched to become a business major.
After graduating from Tech, Chaudier worked in manufacturing and management consulting before accepting a position as the operations improvement coordinator for Aurora. He moved into a position as a financial analyst, joined the company's Leadership Academy, and eventually moved into operations as the regional business manager for cardiac services.
There, Chaudier demonstrated an exceptional ability to step into and assist floundering departments, cut costs, implement lean processes, and turn operations around. When an unexpected shift in management left him with no one in the positions above or below him, he took the reins of the cardiac interventional unit in what he calls the greatest professional challenge of his career.
"For eighteen months, I performed the duties of the manager, director, vice president, and business manager in one of the largest labs in the country," he says. "It was one of the most difficult things I've ever had to do." Chaudier's success in managing the high-stress cath and EP labs led to his promotion to the regional director of cardiac services in 2006, a position he held until he was named vice president in 2010.
As he settles into his position, Chaudier is anything but complacent. He looks forward to adding additional responsibilities and cites his well-rounded Michigan Tech education as an important career influence. "Engineering teaches you a hands-on approach to problem solving, while business focuses on the people and numbers," he says. "Together, they make a powerful combination."