Daniel Kretz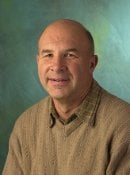 BS Forestry 1970
MBA Business Administration 1972
Dan graduated in 1970 with a BS degree in forestry and continued his education by earning a master's degree in business administration from Michigan Tech. While a student at Tech he was active in Xi Sigma Pi, Blue Key, Air Force ROTC and he played football for MTU. As an undergraduate, he had the unique opportunity as senior class vice-president to serve as the "token student representative" on faculty senate where he was privy to the way in which university decisions were made.
As an alumnus, he has served on the School of Forest Resources and Environmental Science's advisory board and was named the School's Outstanding Alumnus 2003 during the alumni reunion held at the Ford Center in Alberta, Michigan. His work with the school, dedication to his business and the field of forestry, made Dan an ideal candidate for induction into the School of Forest Resources and Environmental Science's Honor Academy in 2004.
In 1972, Dan joined Kretz lumber, which was started by his grandfather Joseph Kretz in 1929. Dan is now the chairman of the board of Kretz Lumber Company of Antigo, Wisconsin and a third generation Kretz lumberman, his father having also worked the business. Kretz Lumber is an employee-owned, customer-driven, Wisconsin-based forest products company.
The Ray Kretz Industrial Forest, named for Dan's father, is an on-site demonstration forest developed by Kretz Lumber expressly for promoting responsible forest management, stewardship and education. In September, Kretz Lumber Co., Inc. hosts its annual Landowners' Forestry Field Day. There are two major objectives of the field day. The first is to update and educate landowners on proper management of their woodlands. The second is to encourage better forest stewardship.
For work such as this, in the area of forest management and stewardship, Kretz Lumber was the 2001 recipient of the National Hardwood Lumber Association Forest Stewardship Award and in 2002 the recipient of the Wisconsin Business Friend of the Environment Award for the Wisconsin Environmental Working Group.
Dan was elected Timber Processing's Man of the Year for 2003. He is the first Lake States lumberman to have this honor.
Dan participated in a year-long project on Wisconsin's Speaker of the House, John Gard's, "Speaker's Task Force on Forestry" in conjunction with other School of Forest Resource alumni Gene Francisco (1968) and Gerald Vande Hei (1958), who are also both Honor Academy members.
For hobbies, Dan occupies his time timber marking (on snowshoes), fishing, and cutting firewood for his outdoor wood boiler. Dan demonstrates continued work with the school and dedication to his business and the field of forestry,