Danielle K. Rickert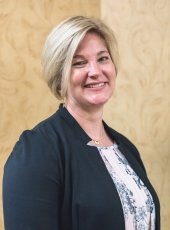 BS Materials Science and Engineering 2004
Danielle graduated from Michigan Tech in 2004 with bachelor's degrees in Materials and Metallurgical Engineering and Business Administration. She worked in the aluminum die casting business and then went on earn her masters in Metallurgical Engineering from the Colorado School of Mines in 2009. After graduation she began work at The Timken Company as Senior Steel Business Associate.
While at Michigan Tech, Danielle was a member of Alpha Sigma Mu (Materials Honor Society), the American Foundry Society (AFS), and the Metal Casting Enterprise. She was also a resident assistant. As an alumna, she has served on the Materials Science & Engineering department's executive advisory board since 2015.
Presently, Danielle is a Senior Application Engineer at Carpenter Technology where she is in charge of materials selection, design and new projects for global automotive business. Prior to this, she worked as an Engineering Manager at Meritor Inc. where she was their first female Materials R&D manager.
Danielle has received the North American Die Casting Association Best Paper Award. She teaches a metallurgy class at a local community college, where her course is consistently rated in the top 10% of all courses at the college. Danielle is currently a member of both the AFS and the American Society of Metallurgy (ASM).
Danielle is passionate about getting female junior high and senior high students excited about careers in STEM. She has developed a variety of hands-on workshops which she showcases at STEM career exploration days throughout Southeast Michigan and Northern Ohio.
She is a volunteer at Explorer Post, a program designed to introduce high school students to various engineering fields. She also co-created the annual event "Girls+Math+Science=Opportunities" which allows girls in junior high school to explore potential careers in math and science in a fun and educational manner.
Danielle currently lives in Royal Oak, MI with her husband, Rick Rickert, a 2004 Mechanical Engineering alumnus and their springer spaniel.
From the 2018 Presidential Council of Alumnae Induction Ceremony program