Christine Cowell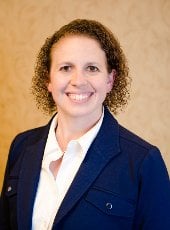 BS Chemical Engineering 2000
Christine earned her BS in Chemical Engineering from Michigan Tech in 2000. She is Research and Engineering Director, NA Baby and Child Care and Global Baby Wipes Product Development at Kimberly-Clark Corporation in Neenah, Wisconsin.
At Kimberly-Clark, Christine leads teams in the end-to-end project management and product development for the Huggies & Pull-ups and Goodnites brands including projects ranging from front-end of innovation through cost optimization. She has been in this role since 2011, and has been with Kimberly-Clark since graduating from Tech. Other roles have included Material Developer, Product Developer, Project Leader, and Senior Research and Engineering Manager, and R&E Director for Cottonelle & Scott, and VIVA before her current position.
Over the past 15 years at Kimberly-Clark she has worked with many consumer product brands including Kotex & Depends.Poise, Cottonelle, Scott, and Viva. In 2014, she was also chosen as one of five Kimberly-Clark North America team members to attend the prestigious Women Unlimited LEAD training program, graduating in 2015. Additionally, she has been very active in many organizations including Kimberly-Clark's Tech Recruiting Team, K-C Society of Women Engineers, K-C Women's Interactive Network Executive Team, and has served on the board of the Fox Valley WAVE Swim Team.
While at Michigan Tech, Christine participated in numerous activities and organizations including Chemical Engineering Academy, Blue Key Honor Society, the Huskies Pep Band, Women of Promise, and was a Resident Assistant in Douglass Houghton Hall. She also founded Omega Chi Epsilon's Tech chapter of a Chemical Engineering Honor Society during her senior year. She was the recipient of a 3M scholarship, and she graduated summa cum laude with a 3.79 GPA.
In her free time, Christine enjoys running, triathlons, and spending time with her husband, Brian, a 1998 Tech alumnus with a degree in Mechanical Engineering. They have three children, Kara, Ian, and Avery. She hopes at least one of them will be a Michigan Tech student in the future.
From the 2016 Presidential Council of Alumnae Induction