Laurie Couture-Dorschner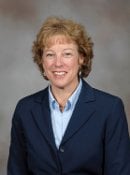 BS Chemical Engineering 1979
Laurie Couture-Dorschner, a 1979 graduate of Michigan Tech with a bachelor's degree in Chemical Engineering, began her career with Bemis Company in Minneapolis, Minnesota in 1979 as a materials development engineer, the first female engineer hired by Bemis Company. She held various engineering and manufacturing positions until 1984, when she joined Kimberly-Clark Corporation in Neenah, Wisconsin. Her initial assignment was in materials development for Baby Care and Feminine Care where she earned patents for her innovative materials and processes. She moved to product development in 1992 and continued to develop innovative products, including a new category entrant for ultra-thin pads. In 1995, she joined the New Infant and Child Care Product team as the lead product developer for the launch of a new, highly successful category for Kimberly-Clark, HUGGIES® Little Swimmers© swim pants. Following her success with Little Swimmers, she was named Manager of Child Care and worked to develop new, innovative products for the pants categories. In 2005, she was named Manager of Front End Development for Global Baby and Child Care where she directed the development of numerous innovations for HUGGIES diapers. She held this position until her retirement in 2015.
Throughout her career, Laurie was actively involved in recruiting for Kimberly-Clark and led the semi-annual recruiting events at Michigan Tech. She served on the Industrial Advisory Board for the Chemical Engineering Department in the early 2000's. She was named the Liaison for Michigan Tech in 2000, where she was instrumental in forging a close relationship between Kimberly-Clark Corporation and Michigan Tech. She influenced over $1 million in donations to the University including upgrading the Learning Center and classrooms, sponsoring Women in Engineering, Explorations in Engineering, senior projects, and diversity programs and scholarships. She led the development of Kimberly-Clark's Communications and Ethics awards for Chemical Engineering Seniors and presented the first awards over ten years ago. She continues to partner with Kimberly-Clark in their activities to recruit full-time engineering candidates and co-ops.
A native of Alpena, Michigan, Laurie moved to Wisconsin in 1980 and lives in Hortonville with Rollin, her husband of 32 years. She is a member of the Presidential Council of Alumnae.
This profile was provided by Laurie Couture-Dorschner March 24, 2016