Colleen Jones-Cervantes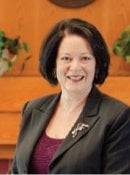 BS Mechanical Engineering 1983
Advancing specifications and increased engine demands require lower viscosity lubricants formulated with a combination of premium base oils and the latest additive technology. As President of Chevron Lubricants, Colleen Jones-Cervantes ('83) leads an organization which provides innovative products that customers depend on for performance, uptime and lasting protection in commercial, industrial, marine and consumer environments globally.
Jones-Cervantes has an extensive history with Chevron, where she started immediately following graduation from Michigan Tech. She was introduced to Chevron as a project engineer and advanced through several roles to General Manager, Retail West, where she was responsible for retail sales and marketing for 3,000 Chevron and Texaco stations in the western United States. Eventually she became the Vice President of Global Marketing for the Asia Pacific region and then served as Vice-President for Product Supply & Trading.
Striving to develop young professionals through employee mentor programs is another way Jones-Cervantes impacts her community.
Colleen was inducted into the Michigan Tech Presidential Council of Alumnae in 2011 and joined the ME-EM External Advisory Board in 2012. Colleen resides in Spring, Texas, with her husband, Winston, and their two daughters, Kyndra and Lauren.
Excerpted from the ME-EM 2012-13 and 2013-14 Annual Reports