Mary Beth Coburn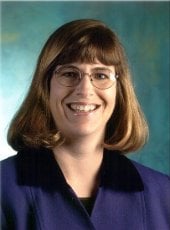 BS Civil Engineering 1987
Mary Beth received her Michigan Tech bachelor's degree in civil engineering in 1987. She then accepted a position as Civil Engineer/Construction with the Los Angeles County Department of Public Works. In 1988, she moved to The Johnston Group Developers in Calabasas, California as a Construction Supervisor. She left the Johnston Group in 1992 and took a position as Civil Engineer/Design at Boyle Engineering in San Diego. In 1995, she went to work for Moffatt & Nichol Engineers also in San Diego. Mary Beth decided to continue her education earning a law degree in 1997 from the University of San Diego. During 1997-98, she worked as a Law Clerk/Contract Attorney for the San Diego Unified Port District. She then accepted a job with Corday & Hartney as an Associate Attorney. From 2000 to the present, she has been an Associate at Best Best & Krieger, LLP in San Diego. The firm is one of California's fifty largest law firms with more than 130 attorneys.
Mary Beth belongs to numerous professional organizations including the American Bar Association, the San Diego County Bar Association, the Lawyers Club, the State Bar of California, the American Society of Civil Engineers, and the Society of Women Engineers. In addition, she is a licensed civil engineer.
She volunteered as a Navy Ombudsman, acting as liaison between the Commanding Officer and the families of the 250+ service members under the CO's command. She received an Outstanding Ombudsman Award from the San Diego USO, the Armed Services YMCA, the Navy league, and the American Red Cross.
Her Michigan Tech association was already in place before she even came to campus, as her father, Jerry, graduated from Tech in 1948. He is a University Silver Medal recipient, and a member of the Civil Engineering Academy.
While a student at Michigan Tech, Mary Beth was a member of Alpha Gamma Delta Sorority. She has maintained close ties with the University through her involvement with the Alumni Association. She served as secretary/treasurer, vice president and president of the Los Angeles chapter before moving to San Diego. She then started the San Diego Chapter, of which she is currently president.
Mary Beth is married to Cal. They reside in Bonita, California with their daughter, Ellie.
From the 2002 Presidential Council of Alumnae Induction