Christine Roberts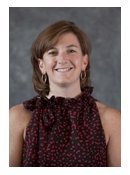 BS Mechanical Engineering 1991
The United Nations reports that over six billion people are currently using cell phones, making these behavior-shaping devices extremely personal for most of humanity.
Christine (Przybysz) Roberts ('91) has, in turn, shaped cell phone technology, when she joined Motorola following graduation from Michigan Tech. She has continued to advance in her career at the telecommunications leader Motorola Mobility, now owned by Google.
She leveraged her BSME degree to secure her initial position at Motorola as Telecommunication Tools CHRISTINE (PRZYBYSZ) ROBERTS '91, GOOGLE a manufacturing engineer. After earning her MBA in 2000, she advanced to Director of Engineering and Program Management, a role that enabled her and her team to execute wireless infrastructure installations and upgrades around the world. Roberts is currently the Vice President of Global GTM Product Operations for Motorola where she manages a team that is responsible for globally launching mobile devices in over fifty countries. As mobile devices continue to advance through new technologies, Roberts explores new ways to improve the human condition, one satisfied customer at a time.
Roberts is an active proponent of Women in Science and Engineering (WISE). She believes starting young is the key to engaging women in the sciences and, to that end, has been a four-time presenter at the seventh and eighth grade Math and Science Conference in Southwest Michigan. In addition, she has participated in similar math and science programs for young women at the University of Illinois G.A.M.E.S. (Girls Adventures in Math, Engineering, and Science) summer camp, Junior Achievement, and Motorola's sponsored Day of Science for local Girl Scout Troops.
Roberts and her husband, Eric, live in Inverness, Illinois with their daughter, Kylie.
Roberts was inducted into the Presidential Council of Alumnae in April 2009.
Excerpted from the 2009 Presidential Council of Alumnae Program and the Michigan Tech Mechanical Engineering-Engineering Mechanics 2013-14 Annual Report