Betty Chavis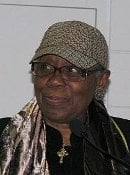 Betty Chavis graduated from Wayne State University with a Bachelor of Arts in Communication. Since coming to Michigan Tech in 1989, she has worked tirelessly to develop programs to meet the diversity needs of the University and the local communities. She has recruited minority undergraduate and graduate students through high school visits, presentations, conferences, and networking.
Many alumni can point to Betty as their champion. She developed Black History Week at Michigan Tech to showcase African American accomplishments in the United States and has been the advisor to the Michigan Tech African Student Organization for the past seven years. She also developed Women's History Week to highlight issues of importance to women at Michigan Tech and elsewhere.
Thanks to Betty, and cochair Mary A. Brunner, the University celebrates the Parade of Nations every fall, with approximately eighty nations represented on campus and a march through Hancock and Houghton under their flags. A food festival also enhances the day with dishes from around the globe.
Betty has worked with numerous student groups on campus and, in her own words, "has sat on every committee at Michigan Tech!" She has been previously honored with the Keweenaw Peninsula Spark Plug Award, Blue Key's Clair M. Donovan Award, the Michigan Tech Employee Excellence Award, and was selected to participate in the Summer Institute for Women in Higher Education Administration at Bryn Mawr College.
The Betty Chavis Emergency fund was established by her colleagues and friends in recognition of her many contributions to Michigan Tech. This fund provide support for students who are experiencing a financial emergency due to unforeseen circumstances.
From the Alumni Association Awards program August 2009