Catherine Harris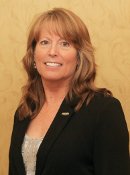 Catherine graduated from Michigan Tech in 1984 with a bachelor of science degree in Surveying. She is a Professional Land Surveyor having received her license in North Caroline and Florida. Upon graduating from Tech, Catherine moved to Florida where she spent the majority of her career holding numerous positions in the surveying arena. Companies she worked for include Keith & Schnars PA, PCL Construction Company, Buchheit Associates Inc. and DH Griffin Construction Company-Raleigh, NC.

Earlier this year she accepted a position with Thalle Construction Company. Thalle's areas of expertise include dam construction, environmental, heavy civil, landfills, site development and utilities. In 1999 they relocated their headquarters from New York to North Carolina to capitalize on their competitiveness in the southeast United States. Currently, Catherine holds the position of; Survey Manager.

While attending Michigan Tech, Catherine was involved in numerous student activities. She was chosen both Queen and Miss Congeniality for Michigan Tech; 1984 Winter Carnival. She was a member of the Senior Class Council during the 1983-84 academic year and served as President of the Douglas Houghton Student Chapter of the American Congress on Surveying and Mapping.

She is a member of a true Michigan Tech family with two brothers, Jon and Brian, and a first cousin having also graduated from the University in the 1980s,

Catherine is mother to two children and has a grandson – son, Sgt. John M Harris, US Army, daughter, Caitlin , and grandson, Ryder and she currently resides in Raleigh, North Carolina.

In 2014, in recognition of her significant achievements, Catherine was inducted into the Presidential Council of Alumnae. This profile appeared in the induction program, September 19, 2014.