Caryn L. Heldt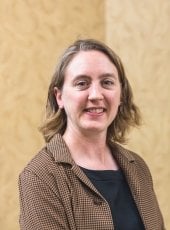 BS Chemical Engineering 2001
Caryn graduated from Michigan Tech in 2001 with a bachelor's degree in chemical engineering.
She then went on to get her masters in chemical engineering in 2005 and her PhD in chemical engineering in 2008 from North Carolina State University. She attended post-doctoral studies in chemical engineering at Rensselaer Polytechnic Institute in 2010.
She is currently an Associate Professor of Chemical Engineering and an Adjunct Associate Professor of Biological Sciences here at Michigan Tech. She teaches undergraduate and graduate classes and is head PI in a research lab with five graduate and five undergraduate students.
Caryn has received over $2.1M in funding for research in eight years. She has authored 26 publications, and has given 50 presentations locally, nationally and internationally.
She has received the NSF Career award, an Air Force Faculty Fellowship, and Research Mentor of the Year, among others. She was an invited speaker at the Recovery of Biologics meeting in Germany, which is the premier, invitation only, meeting in her field of research.
She is a current member of the American Chemical society, the American Institute of Chemical Engineers, the Society of Biological Engineers, and the Biophysical Society. She has served on the Michigan Tech Preschool board in a variety of roles and was a FIRST Lego League coach last year. Caryn is also an active member of Grace United Methodist Church where she organizes fundraisers and meals.
While a student at Michigan Tech, Caryn was a founding member, VP, and President of Omega Chi Epsilon (Chemical Engineering Honor Society). She was also a Blue Key member, and Alpha Kappa Psi treasurer.
As an alumna, Caryn regularly donates to Michigan Tech. She also is an active member of the community and volunteers regularly.
Caryn lives in Atlantic Mine, MI with her husband Gary and their three children.
From the 2018 Presidential Council of Alumnae Induction Ceremony program