Margaret Buchmann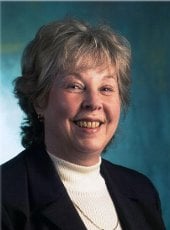 BS Business Administration 1960
Margaret graduated from Michigan Tech in 1960 with a bachelor's degree in Business Administration. She held the title of Office Manager/Accountant with Blue Line Coal Company, located in Green Bay, from 1977 to 1983. Blue Line Coal became Upper Lakes Coal Company, and from 1983 to 1987 Margaret served as Secretary/Treasurer. In addition, she became a part-owner of the company at this time. From 1987 to the present, Margaret has been employed with Brown County Cabinets, a manufacturer of custom wood cabinets for the kitchen and bathroom. In 1989, she became a part-owner of the company.
Margaret was honored by the School of Business & Economics (SBE) in 1999, by being inducted into their academy. That same year she joined the SBE National Advisory Board. She is also a member of the Green Bay Michigan Tech Alumni Chapter.
Margaret's professional affiliations include the American Association of University Women, the Green Bay Area Chamber of Commerce Advance Business Retention Committee, and the Ashwaubenon, WI Business Association Board. In addition, she has been very active in the Ashwaubenon community as a member of the Village Board of Trustees and as the Town Treasurer.
As a Michigan Tech student, Margaret was a member of the Lode staff, Theta Chi Epsilon sorority, and the Newman Club. She was also listed in Who's Who among American Colleges & Universities.
Margaret is the mother of three children. Her son Kurt and her daughter Suzanne are both Michigan Tech graduates, and her son Karl is a graduate of Purdue University.
Margaret makes her home in Green Bay, Wisconsin.
From the 2002 Presidential Council of Alumnae Induction.