Brenda M. Moyer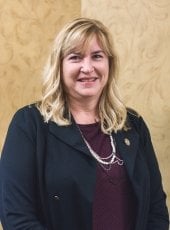 BS Mechanical Engineering 1984
Brenda graduated from Michigan Tech in 1984 with a bachelor of science in mechanical engineering. She then went on to earn her master's in mechanical engineering from the University of Michigan in 1985 and her MBA from Bowling Green State University in 1991.
She is a Senior Manager at Dana Incorporated where she works with the internal supply plants to improve all aspects of the delivery process. She is responsible for everything from the order to the delivery of aftermarket product to their customers with a focus on fill rate improvement and lead time reduction.
Brenda began her career at Dana Inc. as a project engineer. She has held a variety of positions there from engineering manager to plant manager to the global continuous improvement team where she traveled globally to work with Dana's plants across the world.
As an alumna she is a member of the Michigan Tech Mechanical Engineering External Advisory Board and also has attended Tech's Career Fair to recruit for Dana Inc.
Brenda also is a member of Women in Manufacturing and a board member of the Dana Women's Network employee resource group. She also is the coordinator of Dana's FIRST Robotics team, 279 Tech Fusion, where she mentors high school students from Toledo Public Schools in a robotics competition.
While at Michigan Tech, she participated in many intramural sports teams through her dorm house. She was a member of the Pi Tau Sigma engineering honor society, serving as vice president during her senior year.
Brenda currently resides in Temperance, Michigan.
From the 2018 Presidential Council of Alumnae Induction Ceremony program