Brenda Helminen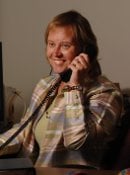 BS Computer Science 1983
MS Computer Science 1988
After graduating in 1983 with a BS in Computer Science, Brenda Helminen began her career as a programmer with IBM Corporation in Rochester, MN. She returned to the Copper Country later that year to work for the Department of Computer Science at Michigan Tech. While working, she completed her Master's degree in Computer Science in 1988. She continued her career with the University as a Senior Systems Programmer in the Center for Experimental Computation followed by a position as Information Systems Specialist working with supercomputing in the Advanced Scientific Computing Center in the late 1980s.
Brenda advanced through several positions in the Information Technology Department and until her retirement in 2012, served the University as the Director of Telecommunications which is responsible for all aspects of designing, managing, and maintaining the University's data network (wired and wireless), voice network and services, and television systems, as well as the University's telecommunications physical plant.
Her team also provided services to all the administrative, academic, and auxiliary units including all of the University's residential facilities, and works with faculty, staff and students to determine needs and deliver services.
Brenda also served on Michigan Tech's IT leadership team under the university's CIO and participated in the development of division-wide plans, budgeting, policy development, and assessment.
In recognition of her significant career achievements, Brenda was inducted into the Presidential Council of Alumnae in 2000.