Michele Blau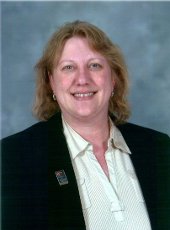 BS Electrical Engineering 1992
MS Operations Management 1996
AAS Electrical Engineering Technology 1988
Michele Blau has what many people only dream of—the option of going to the office in her pajamas. Maybe not literally, but for the last several years Michele has held a management position with IBM, working out of her home in Hancock, Michigan.
Michele holds three degrees from Michigan Tech. She earned an AAS in Electrical Engineering Technology in 1988, a BS in Electrical Engineering in 1992, and a MS in Operations Management in 1996. After graduation, Michele went to work for IBM as an Information Technology Consultant and rapidly moved up to a management position. Michele's titles at IBM have included: Project Manager, Program Manager, Manager of IBM Global Services Web Content Hosting Development, and Manager of e-Business Project Management, IBM Global Services. Recently promoted, she is the Senior Manager of Project Managers in Integrated Operations, IBM Global Services, where she oversees three departments of project management professionals who work in locations in the United States, Canada, Europe, India, and Brazil. Michele also serves as an IBM recruiter at Michigan Tech.
Michele returned to campus in February of 2006 as a guest lecturer in the School of Business and Economics with a presentation entitled "Project Management in a Virtual Business World." In March of 2006, the SBE Graduate Council invited Michele to a campus reception where she shared some of her corporate experiences and how she utilizes both the technical and business degrees she earned at Michigan Tech. She explained to the students that the technical aspects of an education are important and necessary but are only part of the big picture. She showed the students how a business degree could provide them a broad-based understanding of companies where they work, and, ultimately, the market for the products they may develop.
Michele and her husband, Ron, live in Hancock, Michigan, with their three children, Annie, Rachel and Will.
From the 2007 Presidential Council of Alumnae Induction.