Denise Blankinship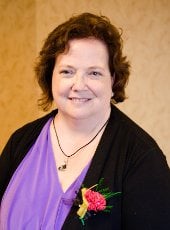 BS Business Administration 1984
Denise retired in 2017. Throughout her career she held numerous positions in the information Technology field with a focus on Business Analysis and Resource Management.

Most recently Denise served as the Vice President of Business Analysis at the Church Pension Group where she was a senior IT manager responsible for partnering with corporate business leaders to define, prioritize and develop IT strategy for supporting both IT and business projects.

In addition, she was responsible for:
• Managing work streams including Problem, Incident, Change, Availability, Service Level, Financial and Supplier.
• Overseeing IT procurement and asset management to ensure that the purchasing, accounting, and inventory processes were fulfilled efficiently and effectively. Developing business-relevant metrics to measure the efficiency and effectiveness of all IT programs.
Managing development teams
During her tenure at CPG, Denise established an enterprise Business Analyst program and implemented numerous process improvement projects spanning web self-service, policy administration, document automation and content management with a focus on efficient workflow automation.

Prior to CPG, Denise was the Director of Special Projects at Fiserv Insurance Solutions serving as an Account Manager focusing on the implementation of Life, Health and Annuity policy administration applications. Previously she was a Senior Consultant within the Finance & Insurance practice for Computer Sciences Corporation (CSC).

Denise holds a Bachelor of Science degree in Business Administration from Michigan Technology University. She has served on numerous vendor Customer Advisory Boards. In 2011, Denise was the recipient of the Women in Insurance Leadership 2011 Notable Achiever award. In 2016, Denise became a member of the MTU Presidential Council of Alumnae (PCA).
*From the Induction Ceremony of the 2019 Michigan Tech Academy of Business