Denise Blankinship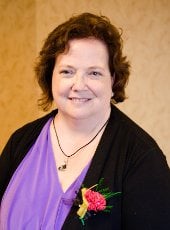 BS Business Administration 1984
Denise graduated from Michigan Tech with a BS in Management Information Systems in 1984 and since 2004 has served in various senior IT management roles at the Church Pension Group in New York City. Her current role is Vice President of IT Strategic Projects.
Prior to that, she worked at Fiserv Life Insurance Solutions, Delta Life and Annuity, CSC Partners, and Retail Management Services, Inc. In her current position, she is accountable for setting strategy, creating and overseeing the budget, maintaining relationships with senior business partners and vendors, and providing ongoing leadership for core transactional applications.
She has many current and past industry affiliations including the Alfresco Customer Council, the Oracle Insurance Advisory Board, and was President of the Klopotek User Group North America (2009). She has also spoken at many industry summits and events.
Denise has won numerous awards including being named the Fiserv Insurance Solutions Employee of the Year (2003), and the Celent Model Insurance Award - Technical PM for a complex web self-service project (2009), and Insurance Networking News Women in Insurance Leadership - Notable Achiever Award (2011). She is also a member of the Association for Information and Image Management and the International Institution of Business Analysis.
Her community service roles include HOA committees, community cleanup days, Bowery Street Mission meal preparation and painting, CPG Diversity Day, CPG Sustainability/Green Work Environment Committee, and CPG sponsored Breast Cancer/MS Fundraising walks.
While at Michigan Tech, she was in the Husky Pep Band and Copper Country Band. She was VP of the Marketing Club her senior year, and worked in the School of Business and as a programmer at Michigan Tech Venture Capital.
Since leaving Houghton, Denise has maintained close ties to Michigan Tech, serving as President of the NY City Alumni Chapter, hosting Applied Portfolio Management Program participants at CPG with a senior investment manager, serving as a 2015 Women in IT panel discussion, and volunteering to conduct a student session on "So your first job is production support."
Denise is aunt to six nieces and nephews and 4.5 great nieces and nephews. She resides in Arverne, New York.
From the 2016 Induction to the Presidential Council of Alumnae