Faith Binns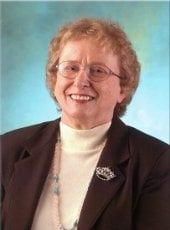 After graduating from Michigan Tech in 1959 with a bachelor's degree in Chemistry, Faith began her professional career as a research chemist in the Physical Chemistry Lab at Dow Corning Corporation in Midland, Michigan. She left this profession after three years to raise a family. During her hiatus from the chemistry industry, she co-owned and co-operated two businesses—Maple Grove Laundry and Maple Grove Oil Supply—and worked as a seasonal tax preparer.
In 1984, Faith returned to her chosen field as an abstractor/indexer in The Dow Chemical Company's Legal Document Processing Section. In 1986, she transferred to the Intellectual Property Section of the Legal Department as a Technical Information Specialist. Her responsibilities within the department included supervising the indexing and input of Dow patents dating back to 1895. She abstracted and indexed new Disclosures of Invention, their supporting documents and lab notebooks submitted to the IP Section from worldwide locations for input into the IP Section proprietary database. She retired in 2002 after an eighteen-year career with Dow Chemical.
Throughout her career Faith was a member of the American Chemical Society. Within her community she served as a United Way allocation panelist for six years, president of the local Friends of Finland for three years, and taught Sunday school at her church for eleven years.
While at Michigan Tech, Faith was a student affiliate member of the American Chemical Society, a member of Theta Chi Epsilon sorority, an honorary member of Phi Lambda Upsilon Honor Society, and a recipient of the Faculty Women's Scholarship.
Faith has three sons (Scott, Kevin, and Timothy), and four grandchildren. She resides in Midland, Michigan with her husband of 43 years, Morrie.
From the 2005 Presidential Council of Alumnae Induction.