Kevin Baker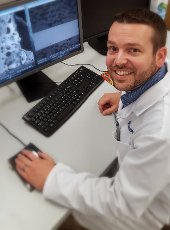 BS Biomedical Engineering 2004
MS Materials Science and Engineering 2005
Dr. Kevin Baker '04 '05 came to Michigan Tech with his parents, traveling 10 hours to visit his brother Joel Baker '96, and realized it was the best fit for him, too.
"I love the outdoors, snow and cold, hunting and fishing, so I instantly fell in love with the surroundings," he says. "My decision was made easier because they were among the first in the state to offer a BS in Biomedical Engineering. Combining the academics with the beauty of Copper Country—Tech was the school for me!"
Baker received a bachelor's degree in biomedical engineering in 2004 and earned a master's in materials science and engineering in 2005.
In graduate school, he met his wife Erin (Burns) Baker '04 '05 '16. The couple frequently went fishing on the Otter and Pilgrim rivers to take a break. "Something about wading through the cold water together in otherwise complete isolation acted as a "reset" of sorts, and allowed us both to get back into the lab with a fresh perspective," he says. "We still talk about these inspiring fishing trips all the time." They now bring their three sons, Everett, Miles, and Hadden, to the Keweenaw Peninsula every year.
Baker says Michigan Tech helped prepare him for his career as the Director of Orthopedic Research in the Department of Orthopedic Surgery at William Beaumont Hospital in Royal Oak, Michigan. He also is an Associate Professor of Orthopedic Surgery at the Oakland University-William Beaumont School of Medicine.
"Michigan Tech gave me the knowledge and confidence to approach complex, technically demanding problems, and develop and implement novel solutions," he says. "We continue to hire [Michigan Tech] students and alumni as engineers for these reasons."
Along with a team of research engineers, Dr. Baker leads numerous ongoing studies, including the development of new materials and pharmacologic approaches to stimulate the regeneration of bone, cartilage, and the tendon-bone interface. He also received a research grant from the Congressionally-Directed Medical Research Program to develop a new stem cell-based treatment strategy to delay or eliminate the onset of osteoarthritis following joint trauma, such as a ruptured anterior cruciate ligament. And, he works side-by-side with his wife, who directs the Retrieved Orthopedic Implant Registry, a program that performs engineering-based failure analyses of failed orthopedic implants removed during revision surgeries.
From the 2017 Alumni Awards Program