Terry Anderson, PE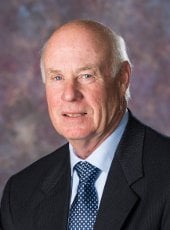 BS Civil Engineering 1970
Terry Anderson completed his baccalaureate degree in civil engineering in 1970. After spending six years on active duty with the US Army he joined the Michigan Department of Transportation. His MDOT career spanned over 32 years starting at the level of Transportation Engineer and retiring as a Senior Policy Executive in 2008. During this time he also simultaneously continued his career with the US Army. He served as a reserve officer from 1976 and retired from military service with the rank of Lieutenant Colonel in 1993. In his years with the Michigan Department of Transportation, Terry was assigned to a series of teams charged with producing a MDOT mission statement and business plan. The focus was to improve development and delivery of products and services as well as to make significant changes to the structure and culture of the Department. During his tenure he helped to shift the focus to a more strategic management of the road systems. The "Preventative Maintenance" program became recognized at the national level as a way of extending road life. This change of perception allowed federal funds to be shifted for the first time towards maintenance of roads.
Terry and his wife, Kathy, are originally from Escanaba and have two adult children, Mark and Michelle. Mark is also a Michigan Tech (1997) civil engineering graduate. Terry and Kathy still enjoy time in the UP at their summer home on Drummond Island.
Excerpted from the 2016 Civil and Environmental Engineering Department Academy induction program.