Richard Anderson, PE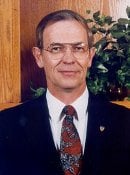 MS Civil Engineering 1972
BS Civil Engineering 1971
Mr. Richard O. Anderson, a 1971 civil engineering graduate of Michigan Tech, is President of SOMAT Engineering, Inc., in Taylor, MI. After receiving his baccalaureate degree, he continued on and received his MS degree in civil engineering from Michigan Tech in 1972, with a specialty in geotechnical engineering. Mr. Anderson returned to school after five years of consulting practice and received his MBA from the University of Michigan in 1977.
In the 24 years following graduation from Tech, his consulting assignments have included over 5000 geotechnical investigations for major commercial and industrial structures throughout the Midwest, nuclear power plants, and a liquefied natural gas plant in Indonesia. He has specialized in the design and analysis of deep foundations and earth retention systems.
Richard has been actively involved in professional activities and societies, including serving as the President of ASFE-The Association of the Engineering Firms Practicing in the Geosciences, and President of the Southeastern Branch of the Michigan Section of ASCE. He was named "Civil Engineer of the Year" in 1994 for the Southeastern Branch and also for the Michigan Section of ASCE. Richard is very active as an engineering practitioner in education. He served on the Michigan Tech Civil and Environmental Engineering Department Professional Advisory Committee for eight years, and currently serves in a similar capacity at Lawrence Technological University. In addition, he currently represents ASCE on the Engineering Accreditation Committee of the Accreditation Board for Engineering and Technology, and serves on several ASCE national committees. Mr. Anderson is a member of the Michigan Tech President's Club.
From 1996 Induction to the Civil and Environmental Engineering Academy