Christine Anderson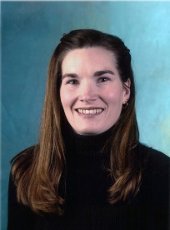 BS Civil Engineering 1994
Christine (Tina) graduated from Michigan Tech in 1994 with a Bachelor of Science degree in Civil Engineering. She continued with her education and received her master's degree in Civil Engineering from Oregon State University in 1996. Over the next several years, Tina was employed with Raytheon. The positions she held at the company included Project Engineer for Underwater Coastal Surveillance System, and Design Engineer for Mobil Offshore Base.
Tina took a temporary leave from the corporate world in 1999 to spend more time at home with her children. In addition to being a full-time mom, she has used this time to develop skills in the education field. She was on faculty at the Community College of Southern Nevada where she taught algebra. She later tutored high school students in the Mendota, IL area, and coached soccer at the high school level.
As a student at Michigan Tech, Tina was very involved in campus life. She was a member of Blue Key, Delta Zeta Sorority, and the Michigan Tech 4-Wheelers Club. She was also a member of the varsity cheerleading team for four years.
Tina and her husband David, a 1994 Michigan Tech alum, live in Ohio, IL with their two children, Katy and Luke.
From the 2003 Presidential Council of Alumnae Induction.