Christine Anderson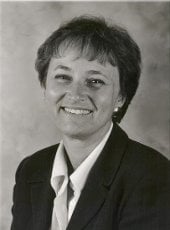 BS Biological Sciences 1971
MS Biological Sciences 1972
Chris graduated from Michigan Technological University in 1972 with a masters degree in biological sciences. Prior to attending Tech, she earned a bachelors degree in biological sciences from Michigan State University. Chris began her career as an earth sciences and chemistry teacher in the Sun Prairie, Madison school system in 1974. During this time she has began work on a second masters degree at the University of Wisconsin. In 1979, she received her masters in education administration. Chris returned to Michigan Tech in 1981, accepting an instructor's position in the biology department. In 1983, she became the University's Director of Summer Youth Programs which led to being named the Area Coordinator for Educational Opportunity in the Education, Cultural and Public Service department in 1989. Since 1994, Chris has served as the Director of the Educational Opportunity Department at Michigan Tech.
Chris is active in the University community; she served on the Alumni Association Board of Directors from 1987 and she is a life-member of the Michigan Tech Alumni Association and she belongs to the President's Society. Chris serves on the Presidential Commission for Women, Presidential Commission on Diversity and is the co-coordinator for the Presidential Council of Alumnae. Chris is a trustee of the Houghton-Portage Township Board of Education, serving as president, vice-president and currently treasurer, and received certification from the Michigan Association of School Boards after completing a course of study.
Chris and her husband, Carl, (a 1972 Michigan Tech alum and Associate Chair and Associate Professor in the Mechanical Engineering Department), reside in Houghton with their two daughters, Jesse and Olivia. From the 1999 Presidential Council of Alumnae Induction.