Amy Clarke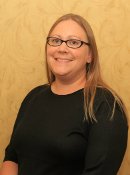 BS Metallurgical and Materials Engineering 2000
Since graduating in 2000 with a BS degree in Metallurgical & Materials Engineering, Amy has built upon her Michigan Tech education to achieve great success. She added MS and PhD degrees in Metallurgical and Materials Engineering from the Colorado School of Mines and received the Willy Korf Award for Young Excellence in 2007 for her PhD research on advanced high strength steels.

Her early career began as a G.T. Seaborg Institute Postdoctoral Fellow at Los Alamos National Laboratory (LANL), studying uranium alloy microstructural development. She then took a position as a Senior Engineer-Development/Research at Caterpillar Inc., developing alloying and heat-treating strategies for steels requiring toughness and wear performance. She is currently a Scientist in the Metallurgy Group of the Materials Science and Technology Division of LANL, focusing on making, measuring, and modeling metals during solidification. In 2012, Amy was awarded a five year Early Career Research Program Award from the United States Department of Energy, Office of Basic Energy Sciences, Division of Materials Sciences and Engineering.

Her innovative work led her to be honored with the Presidential Early Career Award for Scientists and Engineers (PECASE) in 2012 and included a trip to the White House to meet President Barack Obama. This is the highest honor bestowed by the United States government on scientists and engineers in the early stages of their research careers.

The Houghton native is active in The Minerals, Metals and Materials Society (TMS), Association for Iron and Steel Technology (AIST), and Los Alamos Chapter of ASM International. She serves on AIST's Board of Directors, representing the Metallurgy Technology Division, and has been elected to the TMS Board of Directors as the Membership and Student Development Director, beginning March 2015. She was honored with a TMS Young Leader Professional Development Award in 2008 and TMS Young Leader International Scholar Awards in 2010 and 2013. She was also recognized for her significant achievements with the Michigan Tech Alumni Association's Outstanding Young Alumni Award in 2013.

Amy makes her home in Los Alamos, New Mexico.


In 2013, Amy was recognized for her significant achievements with the Michigan Tech Alumni Association's Outstanding Young Alumni Award. In 2014, in recognition of her significant achievements, Amy was inducted into the Presidential Council of Alumnae. This profile appeared in the induction program, September 19, 2014.