Alexander Sample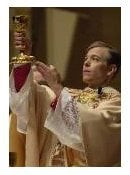 BS Metallurgical Engineering 1982
MS Metallurgical Engineering 1984
A Michigan Tech alumnus ('82) has become the youngest Catholic bishop in the nation. The Rev. Alexander Sample, 45, is the twelfth bishop of the Diocese of Marquette. The first was the beloved Jesuit priest, Bishop Frederic Baraga, who served from 1853 until his death in 1868.
Appointed by Pope Benedict XVI, Sample was installed on Jan. 25 by Archbishop Adam Cardinal Maida of Detroit. A chalice that belonged to Bishop Baraga, a gift from Emperor Franz Joseph of Austria, was used in Sample's installation ceremony.
Humbled, Sample said of his appointment, "My goal is to be truly a shepherd . . . not to be served, but to serve."
Earning both bachelor's and master's degrees in metallurgy from Michigan Tech in 1982 and 1984, respectively, Rev. Sample recalls fondly his years at Tech: "They were formative years for me. I really matured there and sort of came into my own. I was active on campus and learned a self-confidence that has served me well.". . . read more
Excerpted from Michigan Tech Magazine, Spring 2006