Johnathon Aho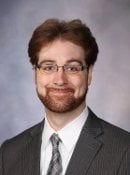 BS Biological Sciences 2008
BS Mathematics 2008
"Make your own success every day. Don't wait for it to come."
Johnathon M.E. Aho '08 continues a tradition and philosophy he developed at Michigan Tech and puts it into practice as he continues at the Mayo Clinic. His ability to excel might not surprise those who remember the accomplishments of the Michigan Tech President's Award for Leadership winner, and his service to others on the Michigan Tech campus and in the community. A double major, in mathematics and biological sciences, with an international minor in German, didn't stop Johnathon from taking on leadership roles.
As 2008 Blue Key Honor Society President he helped spearhead a 33 percent spike in winter carnival funding that made it possible to add online registration, bring back the traveling trophy, and make other infrastructure improvements to the hugely popular event that injects millions into the local community.
He co-hosted a weekly radio show on WMTU and as a staff member helped determine the future direction of the student-run station's live entertainment and regular programming.
Certified as an Emergency Medical Technician by Marquette General Hospital in 2007, that summer he worked as a volunteer EMT counselor at the Camp 911 safety camp for fifth- and sixth-graders, teaching children first aid, basic Automatic External Defibrillator use, and CPR. The theme of teaching also extended to his work as an anatomy teaching lab assistant, guiding students and initiating lab improvements.
The 2007 Portage Health System Volunteer of the Year progressed from Michigan Tech to studies at Chicago Medical School, where he was recipient of the Society of Thoracic Surgeons Looking to the Future Scholarship and a member of Alpha Omega Alpha Honor Society Class of 2012 Delta Chapter. He earned his Doctor of Medicine with Distinguished Research degree before entering Mayo School of Graduate Medical Education as a general surgery resident and a PhD student in biomedical engineering and physiology in Rochester, Minnesota.
Dr. Aho holds more than 15 patents. The 2016 Michigan Tech Outstanding Young Alumni award recipient's honors include the 2015 American College of Surgeons Residents as Teachers and Leaders Award, and the Mayo Graduate School AAAS Excellence in Science Award. The Mayo Clinic surgery resident, Clinician Investigator, and Gold Quality Fellow says instructors at Michigan Tech did an excellent job preparing him for his career by "providing insight into developing as an individual through mentorship and guidance outside of the classroom."