Adrienne Minerick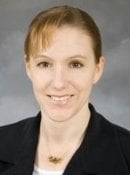 BS Chemical Engineering 1998
Adrienne earned a bachelor's degree (summa cum laude) in Chemical Engineering from Michigan Tech in 1998 and went on to earn a MS and PhD in Chemical and Biomolecular Engineering from the University of Notre Dame in 2003.She is currently an Associate Professor of Chemical Engineering at Michigan Tech.
After completing her degrees, Adrienne began as an Assistant Professor in the Dave C. Swalm School of Chemical Engineering at Mississippi State University. She was tenured and promoted to Associate Professor in 2009.That same year, Michigan Tech recruited her back and she began as a tenured Associate Professor in Chemical Engineering in December 2009.
As a faculty member, Adrienne has earned numerous research and educational scholarship awards. She was a inducted as a Fellow of the American Association for the Advancement of Science (AAAS) in 2013, is a National Science Foundation CAREER awardee and has secured over $3 million in external funding, which has enabled her group to contribute to over 60 publications Her research is in electrokinetics – electric fields that induce motion – predominantly dielectrophoretic characterizations of cells, and the development of biomedical microdevices. She has published research in the Proceedings of the National Academy of Science, Lab on a Chip, and her group's work was featured on the cover of AIChE Journal. In the educational scholarship arena, she has earned Michigan Tech's Fredrick D. Williams Instructional Innovation Award and the national Raymond W. Fahien Award.
Adrienne is past-President of the AES Electrophoresis Society, serves on the Board of Directors as Professional Interest Council I Chair for the American Society for Engineering Education (ASEE), Board of the Women in Engineering Division of ASEE, and is the co-Chair of the ASEE Diversity Committee.
While a student at Tech, Adrienne was a Math Learning Center tutor/team leader, a Summer Youth Programs student instructor, and an undergraduate research assistant. She was also involved in numerous discipline-specific and honor society student organizations. In her current role at Tech, Adrienne is actively involved in mentoring women and under-represented students via STEM scholar programs, community college transfer programs, and mentorships. She is a regular presenter for Summer Youth Programs, and is a new co-director of the Women in Science and Engineering (WISE) faculty group.
Adrienne and her husband, Rob ('98 Computer Science) live in Houghton, Michigan with their two children, Madison and Lucian (Luke).
In recognition of Adrienne Minerick's significant achievements, she was inducted into the Presidential Council of Alumnae (PCA) in 2012.
Excerpted from the 2012 PCA Induction Ceremony Program
Updated November 2014