Adil Shafi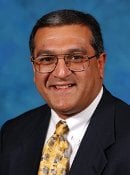 BS Computer Science 1986
BS Electrical Engineering 1986
MS Computer Science 1993
Adil Shafi graduated from Michigan Tech in 1986 with a B.S. in Computer Science and a B.S. in Electrical Engineering. In 1993, he also received an M.S. degree in Computer Science from Tech. He is president of SHAFI Inc, the company he founded in 1991 in Houghton with $1,000.
Prior to founding SHAFI in Michigan, Adil worked and lived in Manhattan, Silicon Valley and Chicago. Since the opening of the main office in Brighton, Michigan, cumulative sales have exceeded $10 million dollars. A recent expansion opened an office in the Powerhouse in Houghton's SmartZone. His company offers software solutions for vision guided robotics in the USA, in Western Europe, and Japan and is ranked number one in the world by Google for industrial bin picking applications. Adil has traveled to and interacted with more than 90 countries and states in the USA. He has working partnerships with 15 robotics companies, 75 systems integrators worldwide, and active affiliations with hundreds of manufacturing companies and technological innovators.
Adil has served on more than ten boards and committees since graduation, including the Advisory Board of the College of Sciences and Arts. He was recognized with the Outstanding Young Alumni Award from Michigan Tech in 1997 and by the trade publication "Advanced Imaging" in 2002 for his distinguished achievements. Adil has kept an active affiliation with Michigan Tech for more than 26 years. In addition to his Advisory Board role for the College, he has been a seminar speaker both for Computer Science and Electrical Engineering. He has helped develop practical industry working aspects for enterprise programs and is the youngest member among all alumni in Michigan Tech Fund's Founders Society.
From 2006 Induction to the College of Sciences and Arts Academy