Carl Adams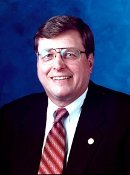 Carl Adams received his BS degree in Applied Physics from Michigan Tech in 1962. He earned an MS degree in 1963 and a PhD in 1966 from Purdue University in Industrial Administration. In 1966, he joined the Systems Analysis Group in the Office of the Secretary of Defense at the Pentagon.
Since 1970, he has been a professor in the Carlson School of Management at the University of Minnesota. He has served as the chairman of Minnesota's internationally recognized Information and Decision Sciences Department since 1983. From 1995 to 1996, he was elected and served as chairman of the University of Minnesota Faculty Consultative Committee.
He has contributed numerous articles to professional journals in the areas of information systems and decision making. Adams served as charter member on the Advisory Board of the College of Sciences and Arts from 1995 to 1997.
Excerpted from the 1998 College of Sciences and Arts Academy induction ceremony program.