Adam Manty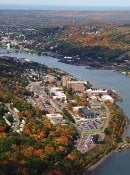 BS Electrical Engineering 2006
MS Electrical Engineering 2008
It's a Michigan Technological University electrical engineer's dream: Connect the two Michigan peninsulas' power grids using the latest technology in a massive project, the first of its kind. And Tech alumni are playing huge roles in it all.
A high-voltage, direct current (HVDC) device is being installed near St. Ignace in the Upper Peninsula to control increased power transfers in the original but updated transmission system. American Transmission Company (ATC) owns the lines in the UP, and the International Transmission Company (ITC), owns the Lower Peninsula lines. And Systems Control of Iron Mountain, loaded with Michigan Tech alumni, is heavily involved in the control system and the building that houses it.
"It's the fourth generation of HVDC technology using voltage source converters," says Adam Manty, 2006 and 2008 Michigan Tech alumnus and special studies engineer for ATC (one of many alumni working there and on the project). "It's the newest, latest and greatest, and it's the first large-scale back-to-back configuration of its kind in the world."
According to Manty, back-to-back means all the technology is contained in the one substation, named Mackinac, and does not require a new transmission line to carry power between the two HVDC converters that make up the device. This configuration allows better use of the existing transmission lines instead of building new ones across the Upper Peninsula and elsewhere.
"The HVDC device allows for complete control of the power flow by converting the incoming alternating current (AC) power to direct current (DC) and then back to AC," he explains. "This conversion will allow accurate control of flows through the UP, which will aid in alleviating the system performance issues seen in recent years. The device is capable of transferring up to 200 megawatts of power."
The original transmission system was designed to handle local demand in the eastern UP, Manty says. But as the mix of power generation has changed over the years—including increasing transfers of power from cheaper, cleaner forms of energy—improvements were needed to enhance the grid's reliability.
"And not building new transmission lines means a huge cost savings," he says. "The entire project will be completed within three years for about $130 million, and it's all going into service this summer. It will also aid local renewable energy integration, like the wind farms that have sprung up in the Garden Peninsula and elsewhere."
Manty says this project warranted special concerns, Yooper style.
"We've got some innovative control systems specific to the UP," he says. "They will ensure grid reliability is maintained when area transmission lines are forced out of service. This can be especially important given the severe weather that the UP can experience."
ATC and vendor Asea Brown Boveri (ABB) have also taken great care to test and commission this unique device.
"We don't want the lights to flicker when we turn it on," Manty laughs.
ABB's chief engineer is alumnus Mike Bahrman, class of 1970, who also stresses the unique nature of the undertaking.
"You can readjust the power flow in the event of a transmission line outage to avoid overloading the remaining system," Bahrman says. "This ensures that the eastern UP continues to be supplied from two sources, the Upper and Lower Peninsulas."
Bahrman compared it to a welder too far away from an unstable power source. The HVDC based on voltage-sourced converter technology ensures more stability in a weaker network that might be far from the generator.
Sounds like the eastern UP.
"This configuration can sense a loss of transmission in the central UP, for example, and readjust power flow from Escanaba to St. Ignace," Bahrman says. "If the flow is too high, it would be reduced. Similarly, the lines could handle flow changes between the Upper and Lower Peninsulas."
Of course, it's all part of a larger grid that ties together the eastern and western US, Texas and Quebec with HVDC. And Bahrman likes to preach the wonder of this truly powerful power engineering to prospective students.
"It's more than just transformers on poles and stringing wires," he says. "It's running big simulations for big machines. It has to do with controls, computer software, telecommunications, power electronics and high voltage. Algorithms to predict the consequences of outages."
If he sounds like an electrical engineering devotee, he is, with a pedigree from his father, George, who taught math at Michigan Tech, and heavy faculty influences.
"Ross Johnson was one of my favorites," he says. "And Richard Born, Oswald for quantum electrical devices, Jim Jones, Stan Lind, Weingarten."
His appreciation of faculty is shared by Manty, who fondly recalled Professor Emeritus Dennis Wiitanen's power systems classes; as well as Bruce Mork and Leonard Bohmann who taught several graduate-level classes, "which created a strong foundation for succeeding in a complex and challenging project such as this." Wiitanen's son, Ross, also works at ATC.
This profile appeared in the article "Alumni Power at the Straits of Mackinac" in the April 3, 2014, edition of Michigan Tech News, by Dennis Walikainen.