Abraham Wagner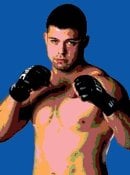 BS Business Administration 2002
Abraham Wagner is not the kind of guy who can sit still. He has this inner drive to contend with.
It started long before he decided to become a mixed martial arts (MMA) fighter and step into a cage with huge men intent upon inflicting as much damage upon him as possible . . .
. . . before he moved up the corporate ladder to become director of finance and operations for an industrial supply company . . . before he received a mechanical engineering degree from Michigan Tech while earning four letters and all-conference accolades as a member of the football team . . . probably even before he left his foster home to work on a farm in exchange for room and board.
Somewhere in a troubled past—one that included countless episodes of abuse from his father—Abe made a choice that kick-started the drive.
"He was passed out drunk, and I was standing over him contemplating killing him," Abe said of his father. "It was definitely a crossroads in my life."
At the age of fifteen, Wagner moved into a foster home. A year later, he won his emancipation and moved to a dairy farm in northern Wisconsin. He attended high school in Elcho, a small community one hundred miles northwest of Green Bay, where he played football and basketball. His size (six foot four and 225 pounds), athletic skills, and academic achievement drew attention from college football programs.
A bout with chicken pox following Wagner's senior season nearly derailed his plans. Thirty pounds thinner, he blew his athletic tests for recruiters. He stuck with it and visited Michigan Tech, where the Huskies' coaching staff took a chance on him.
"I remember we weren't really sure about Abe until he got here," said then-defensive line coach Chuck Klingbeil. "He was a great player to coach, though. He was one of the smartest guys and would do anything you asked. Almost too polite at times."
The drive definitely helped Wagner at Tech, where he excelled both on the football field and off. He was a three-year starter at defensive end and posted seventy-eight career tackles en route to earning All-Great Lakes Intercollegiate Athletic Conference Honorable Mention his senior season. He graduated in spring 2002 with a B average and three job offers.
"Michigan Tech provided me with an opportunity to better myself," said Wagner. "A degree from Tech goes a long way, and I would not be where I am today in my professional career without Tech."
He ended up in Omaha, where he is now the director of finance and operations for Precision Industries, one of the world's largest supply chain services and industrial distribution companies.
With a college degree and corporate job in hand, most former student-athletes would look for a recreational league softball team or bowling team to join. That wasn't good enough for Wagner.
"There are two or three gyms in Omaha that train MMA fighters, and I just called one and asked if I could start training," he said. Three months into training, Wagner stepped into the ring for his first fight. He won in fourteen seconds.
"I like the competition aspect of it. There are no could've-would'ves. It's just you versus another guy. Sometimes you're the best guy, and sometimes you're not."
Wagner compiled a 7–2 professional MMA record including a heavyweight title in Victory Fighting Championship, a regional MMA organization, before sending an audition tape to the nationally known Ultimate Fighting Championship. He was chosen as one of sixteen behemoths to be featured on season 10 of the UFC reality show The Ultimate Fighter, on Spike TV.
He was gashed in the head and lost a decision in the show's opening fight—his only bout during the show. The six-figure contract and full-time gig in the UFC did not materialize.
"It was a once-in-a-lifetime opportunity," says Wagner. "But I'm not in it for the money. I'm just doing it because I want to."
Wagner claims he'll probably be done with fighting in five years. "If I ever wake up one day and it's not fun, I'll stop."
What new challenge could supplant standing toe-to-toe with the biggest and best fighters in the world? Stay tuned; with a drive like Wagner's, it's anybody's guess.
Michigan Tech Magazine, Spring 2012, Vol.47 #1