3 Week Well-being online challenge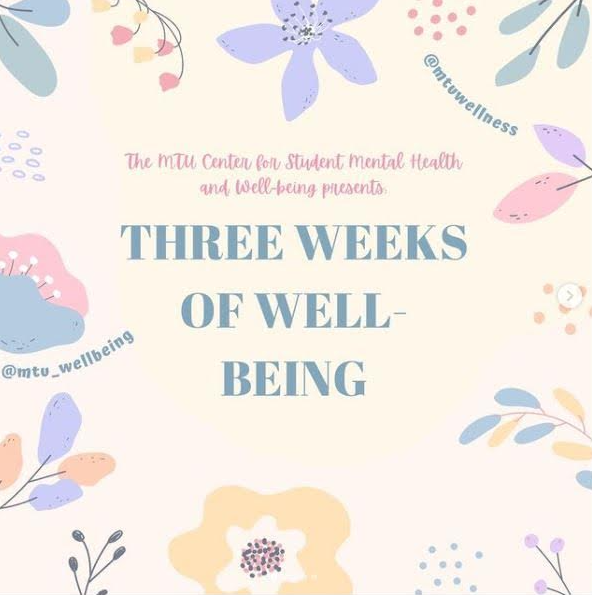 How to join:
We would like to invite you to participate in a well-being challenge! The challenge will begin on Sunday, March 27th and will end on April 15th.

Each week, participants will be tasked with 4 different challenges relating to a weekly well-being theme. It will be up to you to decide how many of the challenges you complete. You could complete 1 or you could complete all 4. It's totally up to you!
Each challenge that you complete counts as one point. Each point that you earn gives you another chance to win one of the weekly and final grand prizes. Flip this card for information on how to enter each week!
Look for next week's student scoop and keep an eye on our social media for more information!
Note: This challenge is limited to undergraduate, graduate, and PHD students.
Rules:
Follow the CSMHW on your preferred social media (Facebook: @mtuwellness, Instagram/Twitter: @mtu_wellbeing)

Visit our social media each Sunday starting on March 27th through April 15th to find out the weekly prize and well-being challenges for the week.
Take a picture of you completing each challenge during the week and post it to your social media! Or, if you can't take a picture, tell us how you completed a challenge in the caption of your post!
Post your pictures with the hashtag #MTU3WOW
If you have a private account, DM us your pictures!
Tell your friends about this challenge! They can participate and be considered for prizes even if they don't have a well-being kit!
Visit the CSMHW social media in the coming weeks to learn more about the challenge, weekly prizes, grand prizes, and the theme for each week.
Brain Break!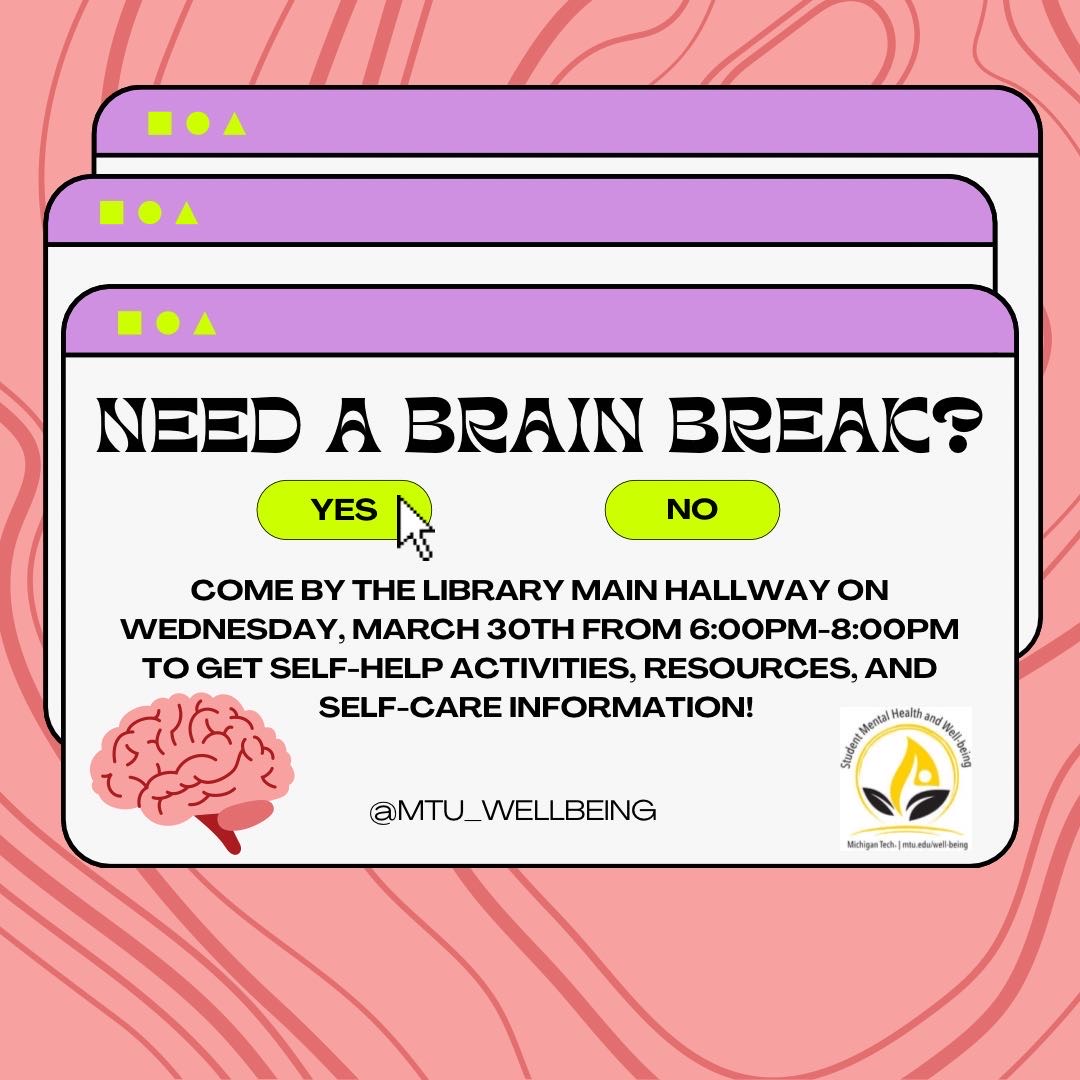 Join Savannah in the library this Wednesday from 6-8pm to take advantage of some self-help resources, participate in some self-help activities, and gather some self-help information! We all are in need of a brain break as the semester comes to a close, so join in and learn how you can help yourself!
Furiously Happy Book Club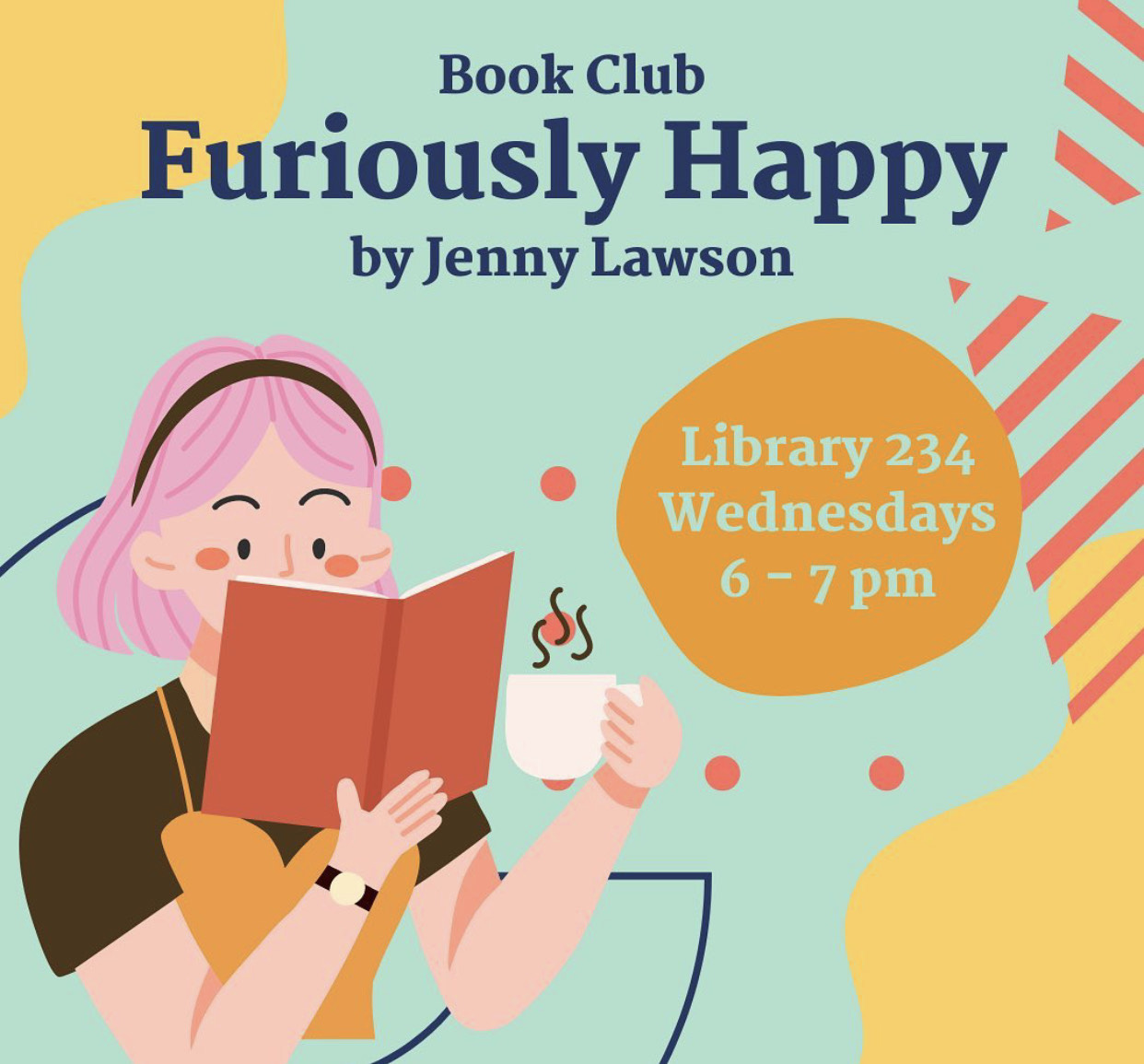 Join Jade in the library on Wednesdays in room 243 from 6-7pm to discuss Furiously Happy by Jenny Lawson! This book club is about learning and encouraging healthy behaviors for yourself and how to make yourself happy! If you're an avid reader, or if you aren't, feel free to join Jade for this fun and interesting book club!
Fall 2021 Flu Shot Clinics
The Fall 2021 Flu shot Clinics are over for the semester. If you missed one of the on-campus flu shot clinics, and you still want to get a vaccine, please reach out to the local healthcare providers in the area. Be sure to call before you arrive (appointments may be necessary). Questions? Reach out to Whitney at wmborosk@mtu.edu