Flu Shot Clinc - Fall 2020
 


On campus flu shot clinics are open to students, faculty and staff.
Participants do not need to have Michigan Tech insurance to attend the on campus flu shot clinics (other insurances will be accepted).
No need to make an appointment—all flu shot clinics are walk-in friendly.
Be sure to have a valid copy of your insurance card (or a very clear picture of the front and back of the card) with you when you arrive.
Be sure to fill out the 2020 Influenza Vaccination Authorization Form before you arrive.
All students and employees are required to fill out the Daily Symptom Monitoring Form prior to coming to campus. Visitors should fill out the Visitor Symptom Tracking Form before arriving at Michigan Tech and are expected to follow University health and safety guidelines while on campus. Be Smart, Do Your Part: Michigan Tech's health and safety guidelines apply to everyone on campus. At all flu shot clinics, practice six feet of physical distancing and wear a mask. If you don't feel well, please stay home and plan to attend a future clinic.
Flu Shots are $40 for those who do not have insurance. Payable by cash, check or credit card.
The vaccine that will be administered is the afluria Quadrivalent, and is available in both adult and pediatric doses. Allergy warning: this vaccine contains egg.
Join the UP Regional Flu Shot Challenge-Yooper U's Fight The Flu! Your participation will be added into Michigan Tech's data as we compete against other UP institutions. For more information on the Yooper U's Fight The Flu, visit the Center For Rural Health page (leaderboard updated weekly).
Fall 2020 Flu Shot Schedule
| | | |
| --- | --- | --- |
| Date | Location | Time |
| Wednesday, October 14, 2020 | Rozsa Lobby | 11 a.m.–1 p.m. |
| Friday, November 6, 2020 | Rozsa Lobby | 11 a.m. - 1 p.m. |
| Tuesday, November 10, 2020 | Rozsa Lobby | 1 p.m. - 3 p.m. |
| Thursday, November 19 | Rozsa Lobby | 4–6 p.m. |
| Wednesday January 20, 2021 | Rozsa Lobby | 4-6 p.m. |
More dates will be added to the on-campus flu shot clinic schedule soon-keep checking back for schedule updates. Questions? Contact Whitney Boroski (wmborosk@mtu.edu)
Health Hut!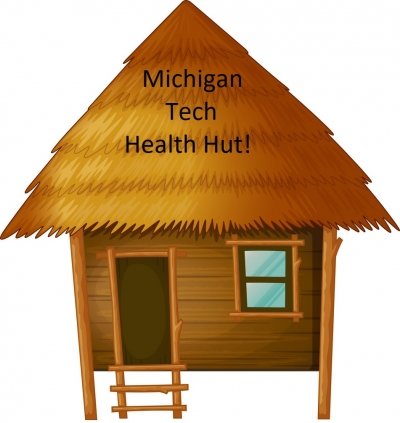 Resources:
Center for Student Mental Health and Well-Being Poster
Fall 2020 Schedule:
Every other Wednesday from noon–3 p.m. in the Library Exhibit Area (first floor)
We continue to try to offer safety and flexibility in our programming-please join us for virtual health huts via the zoom link provided. In person or virtual health huts will be clearly marked below and will be updated as information is received.
https://michigantech.zoom.us/ j/83723891931
September 16 (In Person), Theme: Mental health and Balance
September 30 (Cancelled)
October 14 (In person), Theme: Get Outside and Explore!
October 28 (In person), Theme: Nutrition, Diet Navigation and Healthy Snacking
November 11 (In person), Theme: It's going to be good..You'll see!
Husky Hour!
Join us and learn all about living a happy and healthy lifestyle!
Husky Hour and Health Hut Resources