There's a method to my dendrochronology.
They are sometimes tall tales, but the stories that trees tell us always ring true. Growth rings crafted by water and sun recreate past conditions, from the normal fluctuations of seasonal change to greater disturbances — polar vortexes to severe drought — indicating the exact year of trees' lives and the surrounding events they chronicle. Unique patterns of wide and narrow rings are as distinctive as fingerprints.
"There are no pluses or minuses in dendrochronology," said Zachary Merrill, a graduate research and teaching assistant in the Michigan Technological University College of Forest Resources and Environmental Sciences (CFRES). "Carbon dating isn't the only way to age things."
Tree rings can tell us when and where a house was built. The origin of a stand-up bass or a plank road. And the age of the oldest known trees in a forest. Exactly.
Merrill's work has taken the ​forest science PhD candidate from former U.S. President Abraham Lincoln's Kentucky birthplace to Isle Royale National Park, where his dissertation work focuses on a dendroecological analysis of moose-induced suppression of balsam fir.
There's a Method to My ...
An occasional series in which we dissect how researchers do their work, one methodology at a time.
Tree 'Cookies' and Polished Cores
Summers on the Island are only part of the work. The realm of what Merrill jokingly (and somewhat proudly) refers to as "crazy tree ring scientists" encompasses both exacting field methods and detailed, scrupulous lab techniques and analysis.
A sample in the raw isn't reliable.
"Field estimates? Garbage," said Merrill. Researchers eyeballing initial samples can be tens to hundreds of rings off in their estimates. "Preparation is everything."
Core samples, taken manually with a hollow drill bit, don't hurt trees. They compartmentalize around the sample site within a few hours, sometimes faster, said Merrill, who has personally observed healthy trees that were cored 80 years ago.
Samples, stored in oversized paper straws, are dried, then extracted with a push rod. Mounts are constructed and the sample is affixed with water-soluble glue ("Don't use wood glue!" Merrill cautions novices). Cores are sanded with progressively finer sandpaper — sometimes to the micron grits — then measured and marked to .001 millimeters: a one-cell window.
Tree Ring Translation
When it comes to determining tree age, bigger doesn't mean older. Some species live small and low in the forest understory, biding their time, waiting for an opening in the forest canopy. Hardy, tolerant species, including the vigorously browsed or mountain-top wind-sheared, are able to exist for hundreds of years due to their morphological characteristics.
Tree rings, the bark-encased collection of seasonal growth cells composed of early- and latewood, are the definitive way to determine age. They also function as data banks for environmental conditions. Broad rings reflect a good growth year. Narrow rings indicate stress. "But there is so much more going on, which is my job to decipher," Merrill said.
Honest, It's Not Abe's
Because trees cannot tell a lie, they're one of the most reliable sources for date-based authentication and investigation.
"Almost any wooden thing — cabins, mine timbers, canoes, violins — can extend a chronology back in time," said Merrill, who notes that trees can also solve darker mysteries, like forensics work involving homicides in which a tree has grown or fallen above the victim's body.
Merrill hasn't worked any CSI-style cases. But he has been asked to work on dating some unique objects, including a stand-up bass (subsequently valued at $400,000) and stockade poles at Fort Wilkins State Park in Copper Harbor, Michigan (northern white cedar that started growing in 1571). He was also part of the University of Tennessee research team asked to authenticate the building date of a log cabin at Knob Creek where Abraham Lincoln allegedly spent some of his boyhood, located near the President's birthplace in Hodgenville, Kentucky.
The results, published in the Journal of Archaeological Science and featured on the CBS Sunday Morning program, showed that most of the logs were cut in 1861, when Lincoln was already president.
Play Sunday Morning: The Strange Story of Lincoln's Cabin video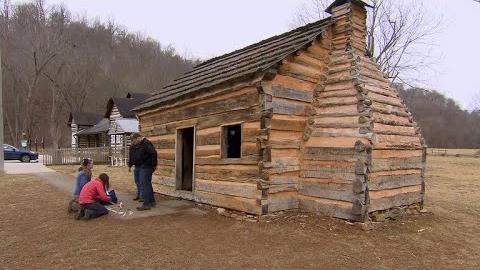 Sunday Morning: The Strange Story of Lincoln's Cabin
During these side projects, Merrill was pursuing his dissertation work and actively collaborating with Michigan Tech researchers and CFRES professors Chris Webster and John Vucetich, focusing on quantifying moose herbivory on Isle Royale National Park.
"When the option to come home to Michigan and to the Keweenaw Peninsula arose — to be reunited and once again immersed in the trees that tell the often-forgotten stories of the Keweenaw — it was a no-brainer."
It seems logical that the career progression for a researcher with a deep affinity for both trees and history should lead to the Keweenaw, where Merrill's current projects include a hunt for the oldest trees in the Estivant Pines, and a study of moose browsing patterns at Isle Royale National Park, the remote Lake Superior archipelago that's home to the longest-running predator-prey study in the world — not to mention a lot of very cool trees, which is what got Merrill interested in his field of study in the first place.
"I just really like trees," he said.
Dendro Details
The branches (pun intended) of dendrology are those of a young science with endless promise.
The world's first formal tree science lab wasn't established until 1941. Merrill is excited to be part of a still-developing field that includes numerous archaeological, environmental and ecological applications — many of which he employs in ongoing un- or underfunded research projects throughout the region.
It would be difficult to separate his current projects from one another in the brimming wood lab, which Merrill has stacked with samples in every iteration — recently retrieved chunks of a mining-milling operations road at Gay, Michigan with more than 200 rings ("I don't have dates for these yet but can say with certainty they date to the 1600s," he said) to meticulously polished circular 'cookies.' But there's really no need to differentiate. Because crossdating, in which dendrochronologists match up the ring patterns between the live and dead tree samples to go back in time successively, is central to the research process.
For example, Merrill's work in the Estivant Pines to find dates for what is believed to be the oldest remaining old-growth stand of white pine in Michigan, will provide a reference chronology for dating other wood samples on his ever-growing regional project list.
"The overlap between living trees of known years is essential to assigning exact calendar years (pattern-matching) to wood of unknown origin from throughout the region."
Finding the Oldest Pines
Those who enter Estivant Pines Wilderness Nature Sanctuary near Copper Harbor, Michigan, often stop to check out the interpretive display in the case at the entrance. The cross-section of a white pine (1500-1970) is an example of Merrill's handiwork.
His goal is to find even older trees than that 470-year sample. Core samples taken in 2019 of 50 white pine and 50 white cedar (because Thuja occidentalis can live to be even older than Pinus strobus) await cataloguing, an aspect of the research that will be assisted by students in the College's popular Earn and Learn program.
Possible spoiler alert: Merrill has doubts that the trees are as old as some have speculated. He'll be sharing that aspect of his research in public talks around the Keweenaw this summer (dates to be announced).
Merrill's ultimate goal is to go as far back in time as he can, whether determining mining prospecting timelines by the fire-dependent propagation of jack pine on Isle Royale or working with near-fossil Western wood remnants. In the latter case, "We have strong sample depth to 1200 and even one sample to 965," he says.
But there are other things Merrill wants to know.
Under the guidance of his advisors, he's adding his work in dendroecology, forest disturbance, and spatial-temporal patterns to the evolving moose-wolf story playing out on Isle Royale.
How Many Moose is Too Many?

The trees on Isle Royale offer essential data to the Michigan Tech-led Isle Royale wolf-moose study, which encompasses a myriad of research projects. Merrill's research focuses on a subfield of dendrochronology — dendroecology — as it applies to the 2,060 moose (at last count), 20 of whom are radio-collared and all of whom need to eat at least 40 pounds of vegetation each day to maintain their average 1,000-pound weight.
Perhaps surprisingly, moose are picky eaters. They prefer deciduous vegetation. But they don't have a lot of choice in the deep snows of winter.
Merrill spent most of two summers on the Island, traversing tough terrain, wading through swamps, and understory growth thickets. He reveled in a simple life with three main concerns: eating, sleeping and sampling.
"I love the silence and ability to disconnect out there," he says. "You can truly be alone in the wilderness, unless a moose visits you in your sleep, or sometimes while you're eating lunch."
It wasn't his first trip to Isle Royale. Merrill was an intern for the wolf-moose study in 2011, backpacking around the Island collecting data and measuring trees as an undergrad in environmental studies at Northern Michigan University.
For his current work, Merrill compares growth rates of browsed and non-browsed balsam fir. But in order to isolate their signal, he also has to look at trees moose don't eat, including the unpalatable and mildly toxic white spruce that grows next to the (comparatively) yummy balsam fir that comprises about 60% of their winter diet.
"Trees are natural recorders of everything going on around them, like a library for the local climate and environment."
Teaching Trees and Inspiring New Researchers

The methods Merrill uses in his research are also a teaching tool for the Michigan Tech students he works in the lab and in the field, as well as younger dendrologists in the making. Last fall, Merrill teleconferenced with a biology class at Battle Creek Central, his high school alma mater.
He talked about how to get to the higher level of studying something you love.
"I'm passionate about passing on my love for trees and the stories that they can tell to students and the general public," Merrill said.
Unsolved (Wood) Mysteries?
Although the researcher cheerfully admits that he's probably already got enough to study for a few lifetimes, Merrill is interested in hearing from folks with interesting unsolved historical wood mysteries — like his work to authenticate the northern white cedar inner wall board from Tamarack, Michigan for a homeowner trying to determine when his cabin was constructed — and if the abode was originally in another county. And the black ash, shown here, from a cabin discovered inside a modern home in downstate Hamtramck, Michigan.
Michigan Technological University is a public research university, home to more than 7,000 students from 54 countries. Founded in 1885, the University offers more than 120 undergraduate and graduate degree programs in science and technology, engineering, forestry, business and economics, health professions, humanities, mathematics, and social sciences. Our campus in Michigan's Upper Peninsula overlooks the Keweenaw Waterway and is just a few miles from Lake Superior.