Millions of metric tons of legacy mine wastes threaten a key Lake Superior fish spawning ground and Grand Traverse Bay beaches and homes. Michigan Tech researchers and partners seek long-term solutions.
Off the coast of Gay, a small northern Michigan hamlet in the Keweenaw Peninsula, a potential environmental catastrophe lurks beneath the surface.
Mine tailings, known locally as stamp sands, are the remains of milling copper 100 years ago. The sands, dark in color, were piled on the edge of Lake Superior near Gay during milling operations. Constant wave action has caused the sands to migrate southwest along the shoreline of Grand Traverse Bay. The original sands pile was 22.7 million metric tons. Now just 2.4 million metric tons remain.
The stamp sands are covering the white sand beaches in the area, damaging the landscape for locals and tourists alike. The sands also have a high copper concentration (about two-eighths of a percent), which is toxic to fish and other organisms that live in Grand Traverse Bay. Under the waters of the bay is Buffalo Reef, a large boulder and cobble field where 20 percent of the southern Lake Superior whitefish and lake trout spawn. The fishery is valued at more than $5 million annually.
Watch Stamp Sands on the Shore of Lake Superior video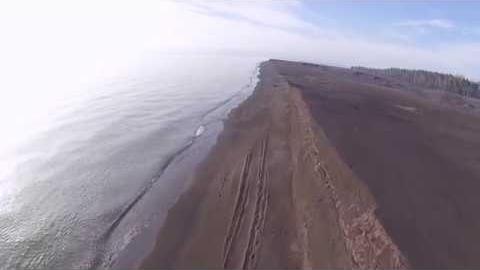 Stamp Sands on the Shore of Lake Superior
Just 2.4 million metric tons of the original 22.7 million metric tons of mine tailings have been eroded by waves and currents, depositing half along the shoreline and half under water. Wave action has begun to reveal the sluiceway, which had been covered by the sands for decades.
Yet Lake Superior's waves are slowly spreading the stamp sands over the reef; more than 35 percent of the reef is already buried. The sands strip the organic film that coats the rocks, killing benthic organisms that fish eat. The sands also fill in the spaces between the boulders and cobbles, and the fish are no longer able to lay their eggs there.
It's estimated that without action, more than 60 percent of the reef will be smothered by the sands by 2028. To prevent such a catastrophe from happening, a partnership between Michigan Tech researchers, the Keweenaw Bay Indian Community, state and federal agencies, area businesses and community members seeks to generate long-term solutions to the problem before it's too late.
Many Brains Are Better Than One
Last year, the Michigan Department of Natural Resources (DNR) dredged the Grand Traverse Harbor mouth as a stop-gap to prevent the river from backing up and flooding the yards and homes of local residents. However, the large storm in late October 2017 that produced record-setting waves completely filled in what the DNR had removed. Clearly, a longer-term solution is necessary.
At a technical meeting at Michigan Tech's Great Lakes Research Center Wednesday, January 31, representatives gathered from the University, the Environmental Protection Agency (EPA), Great Lakes Indian Fish and Wildlife Commission, Keweenaw Bay Indian Community (KBIC), Red Cliff Band of Lake Superior Chippewa, Keweenaw County Road Commission, Michigan Department of Environmental Quality, National Park Service, Natural Resources Research Institute, and U.S. Army Corps of Engineers.
Working together, the partners will triangulate their research to come up with a permanent solution to stop the spread of the sands.
"Buffalo Reef is an enormous breeding field—its contribution is 22 percent of total commercial fish along the southern side of Lake Superior," says Charles Kerfoot, a professor of biological sciences and director of Lake Superior Ecosystem Research Center. Kerfoot's efforts have been instrumental to bringing the many partners on the project together. "These are big, important numbers. This is a serious issue and there is reason for concern."
Researchers at Michigan Tech are approaching the issue from multiple angles:
Modeling wave action, currents and how the sands are migrating across the coastal shelf and along the shoreline;
Using LiDAR and sonar assessments to understand the extent of the sands underneath water;
Submerging remotely operated underwater vehicles to take pictures of the boulder and cobble fields to assess the quality of the remaining fish habitat;
Researching environmental impacts on the benthic and fish communities;
Exploring considerations for building a revetment to hold back stamp sands from further entering the bay;
Conducting archaeology to understand industrial heritage, mining legacies and Native American uses of the area prior to colonization; and
Meeting with community members to understand social and economic impacts on the communities involved.
Tribal communities are major stakeholders. "The Keweenaw Bay Indian Community as well as Ojibwa Lake Superior band tribes are and always have been fishing tribes that use these resources to sustain our communities," says Lori Ann Sherman, KBIC's natural resources director. "It's spiritual, cultural, medicinal and economic. As a tribe, we don't just look at this generation, we always look toward the seventh generation."
"We want these (fish spawning) beds to be healthy for future generations. The research Michigan Tech can provide is invaluable. The working relationship Tech has with the Buffalo Reef steering committee allows us to solve this issue impacting Buffalo Reef."
Working in partnership toward creative solutions also requires understanding where we came from as a society so we can improve in the future.
"Post-industrial landscapes almost always present these management challenges—huge scale problems that overwhelm residents and require careful and collaborative planning so that leaders can take action quickly when funds become available," says Tim Scarlett, associate professor of archaeology and anthropology.
"We all also need to be careful not to assume that cultural history and the preservation of ancient or industrial-era heritage will conflict with environmental cleanup and restoration. Wise decisions can accomplish both of these objectives, helping strengthen cultures while also improving ecological conditions."
Exploring Possible Solutions
A number of options already have been proposed. They include dredging operations every few years; burying the sands in deeper water farther away from the harbor; removing the sands to the White Pine mine tailings pond; and removing as much of the sands as possible from beaches and underwater and returning them to the original pile with a vegetated cap on top. Agency officials are the first to say that any and all ideas to solve the problem are on the table.
In 2018, the EPA and the Michigan DNR will undertake a $3 million dredging project to buy Grand Traverse Bay some time as plans come together.
"EPA is fully supporting this year's dredging project. But we cannot fund this entire project ourselves," says Scott Cieniawski, an engineer with the EPA's Great Lakes region. "This is a problem 100 years in the making. The scope of this project is huge. The goal is that five years from today we will have a solution. We do not want to be here for the next 100 years putting $5 million a year into this. We want long-term solutions."
The overarching goal within the next five years is to develop a long-term management plan to protect Buffalo Reef, Grand Traverse Harbor and the surrounding area that is well-suited for the ecosystem of the entire bay—human and otherwise—and follows regulatory frameworks. The ideal development timeline begins with modeling in 2018, feasibility studies in 2019-2020, design in 2020-2022 and construction beginning in 2023.
Michigan Technological University is a public research university founded in 1885 in Houghton, Michigan, and is home to more than 7,000 students from 55 countries around the world. Consistently ranked among the best universities in the country for return on investment, Michigan's flagship technological university offers more than 120 undergraduate and graduate degree programs in science and technology, engineering, computing, forestry, business and economics, health professions, humanities, mathematics, social sciences, and the arts. The rural campus is situated just miles from Lake Superior in Michigan's Upper Peninsula, offering year-round opportunities for outdoor adventure.