Leave the classroom behind, and take your learning into the world!
Study abroad with Michigan Tech faculty in northern England during the summer. Dr. Carl Blair will lead the five-week program, "Crossing Borders," in Northern England and Southern Scotland.

Get to know Cumbria, Northern England, and Southern Scotland through a mix of archaeology and other liberal arts topics. Students learn the culture through a mix of field trips, and classwork.

Program runs from July 7th to August 10th 2024.
Cumbria and Carlisle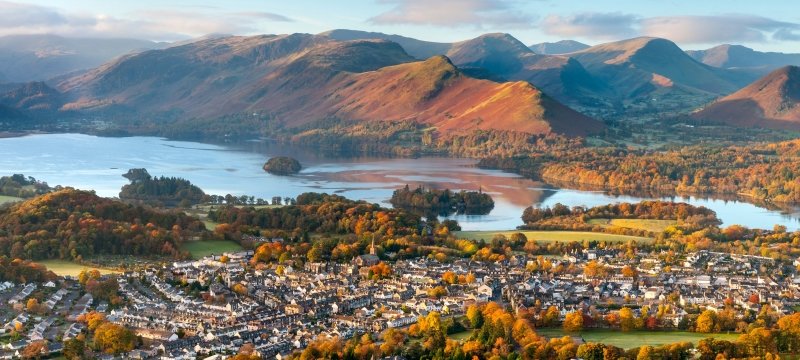 Cumbria
Today Cumbria is a predominantly rural county focused on tourism and agriculture. In the past, it was one of the most significant political and economic hubs of England. Cumbria's roots go back to early Medieval England where the region was part of the British Kingdom of Strathclyde. Hadrian's Wall runs across the northern part of the country.
Many of the industrial revolution's early developments took place in West Cumbria. The region was one of the most important parts of the Romantic Period, including the Lake District, now site of a national park to preserve the region's nature and character. Cumbria's current economic and cultural revival is characterized by the newly formed University of Cumbria, established in 2007 in Carlisle.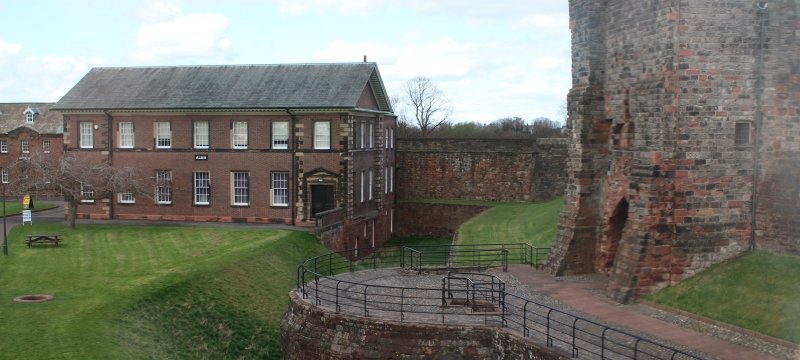 Carlisle
Carlisle is Cumbria's only city, with a population of about 80,000. We'll visit the 12th Century Carlisle Castle, and Carlisle Cathedral, circa 1123. The city has many cultural centers and extensive shopping. Located on the main north-south road and rail routes, it's a convenient base for exploring northern England and southern Scotland.
We'll take six day trips, and a five-night excursion to Durham and York. Transportation is provided. Readings and discussions about the places we visit are part of each experience.
Neolithic Circles and Baronial Castles
We start with a visit to Castlerigg Stone Circle – arguably the most spectacular Neolithic site in England, followed by a drive through the Central Lake District, and a visit to Windermere, an English Equivalent to the Wisconsin Dells that includes a tour on Lake Windemere. After lunch we will visit Brough and Brougham castles in Eden Valley.
The Wall
The day begins at Carrawburgh Mithrium, then on to Housesteads, perhaps the most dramatic of the forts. After a pub lunch, and a stop at Wallstown Crag, we visit Mile Castle (Poltross Burn – a good spot for Pooh Sticks!). We will also tour Birdoswald Fort and stop at Banks East Turret, used by Roman soldiers to defend the wall.
The Scottish Borders/Lakes
The first stop is Bewcastle Cross, perhaps the best Anglo Saxon Cross in the UK. We enter Scotland to visit Hermitage Castle. Headed back south we stop at Lanercost Abbey. After lunch, we visit the Lakes at Dove Cottage – Wordsworth's home and Hill Farm – Beatrice Potter's workplace.
Edinburgh
In the capital of Scotland we will visit the castle housing the crown jewels and royal residence. In the afternoon we tour underground Edinburgh, with a brief visit to the National Museum. You will have a few hours of free time to go to other museums, such as the National Portrait Gallery – or visit to a kilt maker to outfit yourself!
Course-based Activities
Depending on the class you signed up for you may spend more time in Edinburgh for the music and theater opportunities, or visit Lancaster to view the castle, church, and prison. Other possibilities include Cockermouth—home of many Romantic Poets.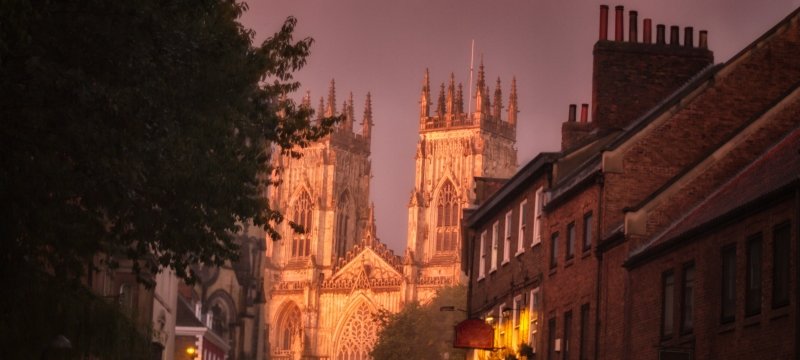 Day 1 - Travel and Countryside
On the way to our overnight visit in Durham we stop at Aydon Castle with its many gates, and Richmond Castle, with its reconstructed gardens, and Norman Keep, the tallest fortified tower in the UK. After a traditional English Sunday Roast we visit the North Pennines and end in Durham.
Day 2 - Cathedral and Context
Today is devoted to Durham, its cathedral castle and ancient city.
Day 3 - Art and Architecture
Today we head south to Ripon to visit the Cathedral. After lunch, on to Rievaulx Abbey. We reach York in late afternoon to finish the day with a city tour, and dinner in the Georgian Assembly Rooms.
Day 4 - Minster and Vikings
We spend the morning at York Minster, one of the great cathedrals of the world. In the afternoon, we explore the Jorvik Viking Centre, followed by an evening cultural event.
Day 5 - Museums and Walls
No trip to York is complete without a walk on the city walls. That is how we begin our day, followed by your choice of three out of four museum visits: York County Museum, Castle Museum, Clifford's Tower, and the National RR Museum. Then you'll have time to wander the historic market stalls of the Shambles, and enjoy an unscheduled evening.
Day 6 - Fountains Abbey and Return to Carlisle
We will spend morning and afternoon at Fountains Abbey. A World Heritage Site, the abbey and grounds help us consider the history of the location as well as how it is presented to the public today. Then, back to Carlisle.
Courses Offered
Students earn 9 credits abroad. Students will take:
SS 3960 Cultural Immersion
SS 3560 History of England I
SS 3561 History of England II
If you have questions about what courses may be offered for summer, please contact Carl Blair.
Much of the course material comes from field trips to museums, and excursions to historic sites and foreign cities. All courses meet the Humanities, Arts, and Social Sciences (HASS) requirement, and can also be applied toward majors or minors as needed.
If you need additional credits to meet the 12-credit financial aid requirement, please talk with program leader Carl Blair about a directed study/directed reading.
Program Costs
Program Fee
Currently the program fee is $3,750, if exchange rates remain favorable and new contracts are signed the fee may drop. All students, regardless of when they register for the program will pay the same fee.
Additional Costs
Estimated round-trip airfare from O'Hare: $1,100
Estimated meals: $425 (based on 26 breakfasts at $4, 17 lunches at $6, and 16 dinners at $13).
Estimated spending money: $1,000 ($200 per week)
Estimated textbook cost: $60
Insurance: varies according to individual plans. Variable. We recommend both medical and trip.
Tuition: 9 credits (charged at regular Michigan Tech rates)
Payment Schedule
Your $500 deposit holds your place in the program and is due by March 11, 2024. Tuition and fees (less the $500 deposit) are due: May 6, 2024, the regular Michigan Tech summer due date. If Michigan Tech's regular summer due date changes, this due date will also change.
All students will live in the residence halls of the University of Cumbria, single rooms with private baths and group kitchens. When in Durham and York the group will stay at Marriott and Radisson hotels, in twin rooms.
Meals included:
Ten lunches
Eight restaurant dinners
Four jointly cooked dinners in the dorm
Other meals are up to you. Carlisle has many options, cheap and quick to expensive. The residence halls have kitchens, are a 10-minute walk from a major market, and two minutes from a FastTrack convenience store.
The lowest fees and best rates for converting dollars to pounds is an ATM in the UK. You don't need to do it beforehand. There is an ATM at the Manchester Airport arrivals hall, and dozens in Carlisle.
You can cover all program costs with financial aid. To qualify, you must be enrolled in 12 summer credit hours.
You will receive 9 credit hours in Track B for this program. Michigan Tech students may enroll in an additional 3 credit directed readings course with your program leaders while abroad in Track B to achieve full-time status. Please contact one of the program leaders if you're interested in the directed readings option.
Consult with the Michigan Tech financial aid office or the financial aid office of your home university, if you are not a Michigan Tech student, for more information about how to fund your study abroad.
Getting There
You need a valid US passport that remains valid for at least three months after your trip. – if you are not a US citizen, contact the program leader or Michigan Tech International Programs and Services study abroad program for more information.
US citizens travel under tourist status. Because you'll be studying with us rather than attending classes at a foreign university you don't need a student visa.
Learn how to apply for a US passport and get the ball rolling as soon as possible. Passport applications typically require at least six months to process.
Learn how to get your passport photos on campus and check out other pre-departure tips from Michigan Tech Study Abroad Office.
Clothing/Packing
It doesn't rain every day in England. But it can rain for days at a time. Temperatures in Cumbria are comparable with a cool Midwest summer. Rain gear is essential. Bring clothes suitable for walking over semi-rough terrain during our field trips, and what you'd wear regularly for other times. Pack lightly, you'll have to carry your own luggage, and you can do laundry at the dorm. (Dry cleaning is available in Carlisle.) A couple of dress-up outfits are a good idea. England is more formal than the US, especially for evenings out. What not to wear? Baseball caps. They mark you as an American and you will be treated differently.
Prescriptions and Glasses
Excellent medical facilities are easily found in the UK. But bring all needed medications with you in clearly labeled, original containers. Bring copies of all prescriptions, including eyeglasses.
Computers
Will you need one? No. Will you want one? It is up to you. Most computers have internal power converters, so that's not an issue. But you need a plug-converter, available at any US major store.
While You Are There
Arrival and Departure Information
Students will depart from multiple US airports rather than a group flight. We try to arrange airline discounts; we will keep you posted.
Students have ample time to explore Carlisle, Cumbria, and further afield. They'll be free most evenings and weekends, and we recommend they immerse themselves in their surroundings, making the trip uniquely their own. Night is a wonderful time to visit city landmarks, take in a show, try a new restaurant, or experience other cultural activities. On weekends, students can venture a bit farther afield, using convenient train or bus services. Some students have made longer weekend trips via cheap air flights to be had from Manchester, Glasgow, or Newcastle (each an easy 60-90 min. train ride from Carlisle).
Behavior, Expectations, and Accommodations
Students are expected to abide by the Michigan Tech student conduct code. There is zero tolerance for drug use. Violations will result in immediate expulsion from the program and no refund.
Michigan Tech has standard policies on academic misconduct and complies with all federal and state laws and regulations regarding discrimination, including the Americans with Disabilities Act of 1990. For more information about reasonable accommodation for or equal access to education or services at Michigan Tech, please call the Dean of Students Office, at 906-487- 2212 or follow the link above.
Reasonable precautions should be taken as in any area abroad. If you become sick or are injured, notify the program coordinator and they will assist you in finding the closest medical facilities.

The COVID-19 situation is dynamic and Michigan Tech will continue to monitor international travel recommendations in our study abroad locations. Michigan Tech will not approve study abroad travel to locations with a travel advisory level 3 or 4 due to COVID-19. The well-being of our students is Michigan Tech's top priority and we encourage students to carefully review the resources provided by the CDC, World Health Organization (WHO), and the US Department of State.

If you have any questions about study abroad / study away travel, please contact the program leader.