Christopher T. Middlebrook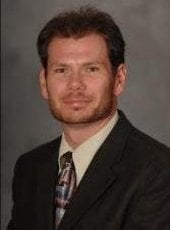 Professor, Electrical and Computer Engineering
Affiliated Professor, Physics
PhD, Optics, University of Central Florida
MS, Applied Optics, Rose Hulman Institute of Technology
BS, Electrical Engineering, Michigan Technological University
Biography
Christopher T. Middlebrook is a professor of electrical engineering at Michigan Tech. Middlebrook is a member of the IEEE, OSA, and SPIE. He was also an electrical engineer with the Electro-optics Division, NAVSEA Crane, where he served as a research test and development engineer from 1999 to 2003. Middlebrook performed his undergraduate work at Michigan Tech, graduating in 1999 with a BS in Electrical Engineering. He performed graduate research work on the design and implementation of a laser rangefinder/designator beam metrology system for beam characteristic analysis through environmental and atmospheric conditions at Rose Hulman Institute of Technology, completing an MS in Optical Engineering in 2003. Middlebrook then entered the graduate program at the Center for Research in Education in Optics and Lasers (CREOL) at the University of Central Florida, where his research was primarily focused on infrared systems. He ultimately completed a dissertation on an antenna-coupled microbolometer phased infrared imager and received his PhD in Optics from UCF in 2007.
Middlebrook started as an assistant professor at Michigan Tech in 2007. His present research interests include visible and infrared imaging systems, integrated photonic devices, optical remote-sensing system design, and optical beam projection through atmospheric turbulence. Middlebrook's facilities include a 700-square-foot optical research and testing lab, as well as a 500-square-foot teaching optical lab. He has access to the microsystems materials and devices laboratory (MMDL), which is well equipped for fabrication and characterization.
Middlebrook teaches courses and advises both undergraduate and graduate students, primarily within the photonics program at Michigan Tech. Students are trained in the classical areas of physical and geometrical optics as well as in lasers, photonics, and solid-state device physics.
Links of Interest
Areas of Interest
Photonic Devices
Optics
Infrared Detection
Electronic Design and Manufacturing