Santa's not coming down this chimney. No Yule logs on the fire, either. But five student tenants are making Michigan Technological University's Sustainability Demonstration House a home.
The 5,000-square-foot split-level home built in 1953 for Herman "Winks" Gundlach and family was officially donated to Michigan Tech in 1992 and served two presidents, Dale Stein and Curt Tompkins. Known as the Kettle Gundlach University Residence, it was renovated in the early 1990s—including a great-room and dining area addition with a stunning view of Portage Lake—and transformed into a more public space for university-related gatherings. Michigan Tech Facilities Management maintained the house, which hasn't had this many residents in many years. Michigan Tech's Alternative Energy Enterprise Team got the green light for the Sustainability Demonstration House project in 2016.
The grandeur of bygone days is still evident in the massive woodwork, and the heated slate beneath your feet in the foyer. But only necessary lights (fixtures and lamps with LED bulbs) are turned on, and a plaque on the living room fireplace spells it out: Do Not Use Fireplace.
This newest chapter in the home's history is laid out for all to see. Living in a fish bowl is more than rhetoric for the new residents. They're surrounded by 1,000 feet of panoramic windows. Hosting open houses is required. They're settling in, getting used to company and getting to know the house. And somehow the five busy Huskies managed to get together at the end of fall semester to share what it's like to be a part of this project.
Five's Company: Meet the Housemates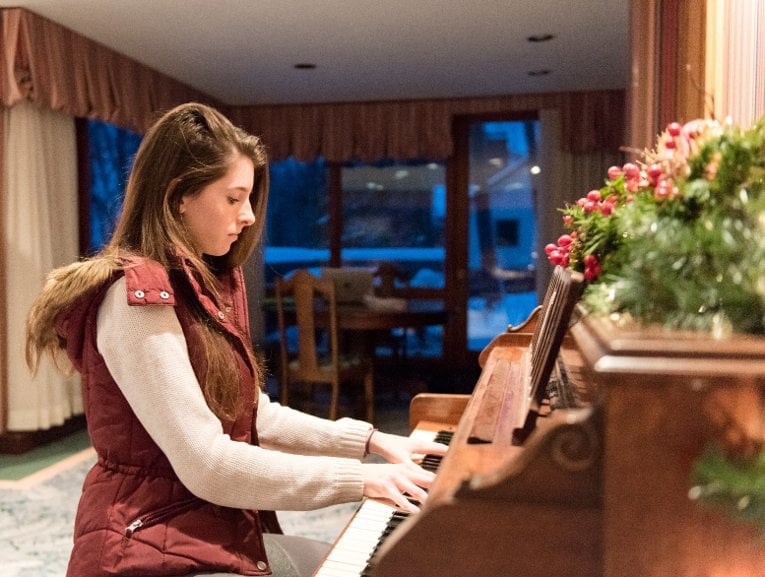 "We don't assign roles, we're all in charge—we all contribute," says Rose Turner, a fourth-year environmental engineering student from Detroit, Michigan. The only tenant who's a member of the AEE Sustainability Demonstration House team, she's the liaison between residents, members and team advisor Jay Meldrum. The process flows smoothly. "Double the amount of work gets done," Turner says. "Everything can get done faster. I meet with Jay at least once each week."
Students applied last spring after an open house that offered tours of the six-bedroom, six-bathroom, tri-level home. "One is currently empty and used as our guest room," says Turner. Applications were reviewed by a campus cross-sector of faculty and staff advisors. Tenants were chosen in April, and moved in before fall semester. Obligations in addition to paying rent, which is about the same as any other kind of campus housing (they pay for campus parking), includes mandatory work on the home at least five hours per week. Tenants help host open houses, handle seasonal duties like snow removal and mowing, and painting, composting and special projects. Mina Kukuk, a fourth-year environmental engineering student from Battle Creek, Michigan, says the most fun has been watching everything come together as the housemates team up on projects like the outdoor composting bin and scraping and re-painting the garage door.

While larger energy and home improvement projects are done in conjunction with the team, and faculty and staff advisors across campus, fourth-year mechanical engineering student Thomas Richter, from Eden Prairie, Minnesota, is the mouse-removal and power-tool specialist who makes normal household repairs as needed. Overall electrical consumption is monitored by the enterprise team, (temperature, humidity and other conditions are retrievable from cloud-connected sensors), but Richter also monitors his personal power use by watt hour per hour—he currently consumes the most electricity.

"I want to understand how much I use," he says.
Cooper Minehart a second-year mechanical engineering student from Woodbury, Minnesota is a member of another Michigan Tech Enterprise team: Supermileage Systems. He helps out wherever needed, including the latest endeavor, setting up hydroponic gardening in the basement. They have most of the supplies and will begin constructing the system during spring semester.
Given Barbara Kettle Gundlach's propensity for gardening—she designed a four-season landscape around the home that takes advantage of microclimates to grow plants not traditionally cultivated in this climate zone (azaleas), the former lady of the house would likely be very interested in this project.
The Sustainability Demonstration House offers regular open houses co-hosted with AEE for area residents and the campus community to see the progress and learn about water use, waste output and other sustainable practices that can help them save time, energy and money. The first, in October, was well-attended. Hannah McKinnon, a second-year biology student from Grand Blanc, Michigan, spearheaded a second event; tenants raised $200 for the Western Upper Peninsula Food Bank. "I really like all the outreach," she says.
Michigan Technological University is a public research university founded in 1885 in Houghton, Michigan, and is home to more than 7,000 students from 55 countries around the world. Consistently ranked among the best universities in the country for return on investment, Michigan's flagship technological university offers more than 120 undergraduate and graduate degree programs in science and technology, engineering, computing, forestry, business and economics, health professions, humanities, mathematics, social sciences, and the arts. The rural campus is situated just miles from Lake Superior in Michigan's Upper Peninsula, offering year-round opportunities for outdoor adventure.