It's not your ordinary rental: 5,000-square-foot, five-bedroom, six-bathroom, three-floor home. Tenants responsible for composting, mowing and cleaning solar panels as needed. Monthly blog posts and two open houses per semester required.
The Michigan Tech Alternative Energy Enterprise team is transforming the former University President's Residence on Woodland Road into a net-zero sustainable demonstration home—and looking for student tenants to help with the project.
The Alternative Energy Enterprise team hosts an open house from 4-6 p.m. Thursday, March 16. Prospective residents, and all interested in learning more about the project—or donating time or services—are welcome to drop by any time during those hours. Look for the students wearing AEE t-shirts; they'll be walking around fielding questions. If you don't have time to visit, you can check out project details on the Superior Ideas crowdfunding page.
The flat-roofed split-level home, built in 1953 for prominent Midwest construction contractor Herman "Winks" Gundlach and wife Barbara, was designed by architect Warren Monberg. Situated on a shady, hardwood-studded lot just east of McNair Hall, floor-to-ceiling windows offer magnificent Keweenaw waterway views. Pileated woodpeckers flit through the treetops. In 1992 it was donated to Tech and officially dedicated as the President's Residence. It was home to two presidents, Dale Stein and Curt Tompkins.
The house's history is interesting—its future, organizers say, has the potential to help better lives in the western Upper Peninsula, where aging homes, aging population, low median household income, high unemployment and the highest electric rates in Michigan (.25 per kilowatt hour), place severe burdens on vulnerable citizens. The student-led project aims to do, show and share real ways to reduce, save and generate energy, including retrofitting, recycling and replacing systems to cost less and reduce carbon impact. Plans range from small changes, installing Light Emitting Diode (LED) and Compact Fluorescent (CFL) light bulbs, to a solar array, currently under design, that will bring 10 kilowatts of renewable energy into the house.
Walls Tell Tales
Sometimes, walls can talk. Students used 3-D thermal modeling to track heat escape and to run the home through different scenarios and improvements to assess the current energy footprint and find out what improvements will make the biggest impact, says Nathan Ackerman, a mechanical engineering major, who is working on the home as part of his senior capstone project. "Modeling will tell us what size furnace will be most efficient," he says, leading a tour of the home's physical plant, where both furnace and electrical system are being monitored. A modem in the basement bathroom collects and transmits the electrical data; temperature and humidity readings are regularly recorded for access via the Cloud.
Mahdi Shahbakhti, an assistant professor of mechanical engineering, is assisting with the instrumentation.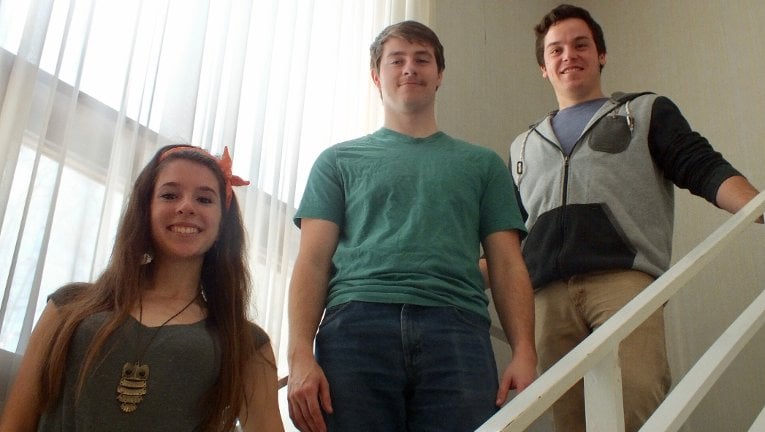 Mario Graziano, a civil engineering student, says there are numerous sustainable demonstration houses throughout the United States, but Michigan Tech is one of the smaller universities taking it on. "Some are done in dorm halls, some are current houses in the area. We obtained some of our ideas from reviewing these projects."
While the décor is a side issue (chartreuse-and-fuchsia wallpaper, a yellow-tiled bathroom) the design—with its many built-ins, extensive woodwork and aforementioned windows, is a marvel. Students are impressed by how well the home is built and how well the original windows function. Main heat escape routes are doors—and no surprise, the fireplaces in the elegant living room, and basement rumpus room with knotty pine bar fit for a Mad Men episode. But forget ambience. Safety and efficiency take precedence. "We might not allow fires," says Rose Turner, an environmental engineering student, also working on the house for her senior capstone project, who also plans to apply to live there.
Live Here, Work Here
Students don't have to be team members to be tenants. But they are expected to help out with painting, regular upkeep and special projects.
Jay Meldrum, Michigan Tech executive director of sustainability and faculty advisor to AEE, is coordinating the effort, along with AEE students Samantha Swartzmiller, also participating for her senior capstone, and Ackerman. Faculty and staff advisors from across campus are helping to define tenant policies: Richelle Winkler (social science), Travis Pierce (housing), Lynn Artman (School of Technology) and Robert Handler (chemical engineering and Sustainable Futures Institute)
The advisory committee will review tenant applications for approval.
Michigan Technological University is a public research university founded in 1885 in Houghton, Michigan, and is home to more than 7,000 students from 55 countries around the world. Consistently ranked among the best universities in the country for return on investment, Michigan's flagship technological university offers more than 120 undergraduate and graduate degree programs in science and technology, engineering, computing, forestry, business and economics, health professions, humanities, mathematics, social sciences, and the arts. The rural campus is situated just miles from Lake Superior in Michigan's Upper Peninsula, offering year-round opportunities for outdoor adventure.