Get Ready, Get Set: Design Expo 2015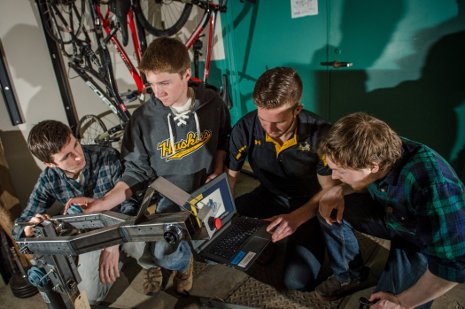 The gears are turning, and the ideas are in motion. It's time for the Design Expo at Michigan Technological University, coming up Thursday April 16, 2015. The event is open to the public from 8:30 a.m. to 3:30 p.m. in the Memorial Union Building Ballroom and showcases undergraduate engineering projects.
This year's expo at Michigan Tech features a wide array of student design projects with dozens of teams and more than 600 students competing. Many come out of the University's unique Enterprise program, in which teams of students solve real-world problems for corporate or industry sponsors.
Charcoal Kilns
Katelynne Bauer is a chemical engineering student at Michigan Tech who is part of a team in the Consumer Product Manufacturing Enterprise. In their work, Bauer and her fellow student researchers have streamlined a charcoal kiln process.
"Kilns are not a new technology," Bauer writes on the team blog. But, she explains, better charcoal kilns could be a solution to health and environmental problems in Benin, a country in West Africa. Burning wood in a village releases a number of air pollutants and contributes to deforestation; burning charcoal is both cleaner and less resource-intensive.
"In school, we learn a lot of practical knowledge, and through Enterprise projects we apply that knowledge to unique problems," Bauer says. "It can be intimidating — the expectations are high — but we have the opportunity to act as real engineers."
Velovations
Hands-on work is what team captain Dan Krudy says is the key to his mechanical engineering project, a wheelchair-friendly exercise machine. The project is a collaboration with the RENEW-U research in the Kinesiology and Integrated Physiology Department.
"We have real-world experience, and this project is an opportunity to apply that," Krudy says of the multiple internships he and his teammates have done and how that influenced their wheelchair-based exercise design.
The project is part of the Velovations Enterprise. The name is a blend of velo — meaning bike — and innovations, and the name inspires the students' designs. Levi Vermeer and Kyle McGurk lead the other two Velovations teams.
Vermeer has MacGyvered cheaper snow tire options for winter bike commuters and designed a whole new test.
"Tires aren't simple to test on snow and ice," Vermeer says, explaining that he developed the test using a coding program, which will be an Enterprise legacy. "We're leaving behind a test fixture that other projects can use."
Cars, Plumes and So Much More
Bikes and charcoal are just a few of the ideas on display during the Design Expo.
One team, through the Alternative Energy Enterprise, is digging into how to power a home with solar panels. The team built a tabletop model to showcase energy usage — and solar savings — in an average home.
Another group is swapping copper for aluminum in cars and studying how the metal corrodes. Ford made headlines with the mostly aluminum-based F-150 truck that shaved about 700 pounds off the frame. Now engineers want to know how it will stand the test of time, salt and automotive fluids.
In another world of chemistry, a different Enterprise team is tracking a chemical plume in Antrim County. Trichloroethylene is a major groundwater contaminant there, with a six-mile-long and two-mile-wide plume that has already spoiled dozens of residential wells. The students have developed a model to help keep the municipal drinking water safe.
Another group's interest looks high above groundwater. Their focus is fixed on mountains and, specifically, mountain boarding. The sport is like surfing or snowboarding — at altitude and without the snow. The Boardsport Technologies team is manufacturing a better mountain board, one that can read strain and withstand steep, rocky declines.
To learn more about these projects and others, stay tuned for updates and live tweets @MichiganTech during the #designexpo.
Michigan Technological University is a public research university founded in 1885 in Houghton, Michigan, and is home to more than 7,000 students from 55 countries around the world. Consistently ranked among the best universities in the country for return on investment, the University offers more than 125 undergraduate and graduate degree programs in science and technology, engineering, computing, forestry, business and economics, health professions, humanities, mathematics, social sciences, and the arts. The rural campus is situated just miles from Lake Superior in Michigan's Upper Peninsula, offering year-round opportunities for outdoor adventure.