After two years of showcasing projects virtually, more than a thousand Michigan Technological University Huskies will stretch their legs (and their audience's imaginations) as they present their incredible projects live on campus.
After two years of showcasing projects virtually, more than a thousand Michigan Technological University Huskies will stretch their legs (and their audience's imaginations) as they present their incredible projects live on campus.
The 22nd annual Design Expo runs from 10 a.m. to 2 p.m. Thursday on the first floor of Michigan Tech's Van Pelt and Opie Library. The public is welcome to join the campus community and Expo sponsors to explore what students in the Enterprise and Senior Design programs have been working on throughout the year and watch them compete for honors and more than $3,000 in cash awards.
In addition to the work MTU's College of Engineering students will proudly display, this year's event has been expanded to highlight Senior Design and capstone projects across several Michigan Tech degree programs. Look for entries from the College of Business, College of Computing, College of Forest Resources and Environmental Science, and College of Sciences and Arts.
Special guests include 187 students from Houghton and Calumet middle schools participating in Michigan Tech's GEAR UP program. GEAR UP — Gaining Early Awareness and Readiness for Undergraduate Programs — is a federally funded program providing college-positive programming for middle and high school students. And SOAR, the Dollar Bay High School's Student Organization of Aquatic Robotics Enterprise team, will also be there to showcase underwater remotely operated vehicles.
Attend. Explore. Vote.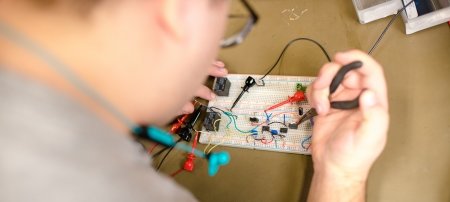 The showcase, followed by a social hour and awards ceremony at the Rozsa Center for the Performing Arts, is free and open to the public.
Not on campus? Register to attend the opening ceremony and awards presentation virtually.
View the gallery of student videos.
Vote by text for the Audience Choice Awards from 10 a.m. to 3 p.m. Thursday.
Award-winning Design Projects that Tomorrow Needs
A panel of judges comprising corporate representatives, alumni, community members and Michigan Tech faculty and staff will critique videos of team projects, solutions and results in advance of the live event, then come to Design Expo to meet the teams and ask questions in person.
This year's Design Expo lineup has a wide reach. Applied computing students will explain cybersecurity advancements in network infiltration, while across the show floor, students in the College of Forest Resources and Environmental Science will share their proposals for the sustainable use of a 107-acre parcel of land in Michigan's Upper Peninsula. Expo attendees will learn about human tissue mimicry via 3D-printed polymeric materials as part of a Senior Design project sponsored by Stryker Corp and view a mobile water filtration system built inside a 10-foot pop-up shipping container, powered with renewable energy — a project sponsored by Britten Inc. Students from the BoardSport Technologies Enterprise team will show off advancements in snow-, skate- and wakeboarding strength and affordability in a project funded by General Motors. The Aerospace Enterprise team will demonstrate satellite tracking innovations for its project sponsored by the U.S. Air Force Research Laboratory, while the CinOptic Enterprise team will showcase its safety outreach campaign for Isle Royale National Park.
A Round of Applause for Design Expo Sponsors
In addition to supporting individual teams and projects, Design Expo itself is generously supported by industry and University sponsors, and many will be present. Thompson Surgical serves as Expo 2022's executive partner, while ITC Holdings serves as directing partner for the 11th consecutive year. Other Design Expo partners include Globalization Partners, Property Management Inc., Winning by Design, Plexus, Husky Innovate, Altec. Inc. and OHM. "These nine partners — along with 122 additional project and program supporters — made a strategic investment in our educational mission at Michigan Tech," said Enterprise Program Director Rick Berkey. "We're grateful for their support."
Michigan Technological University is a public research university founded in 1885 in Houghton, Michigan, and is home to more than 7,000 students from 55 countries around the world. Consistently ranked among the best universities in the country for return on investment, Michigan's flagship technological university offers more than 120 undergraduate and graduate degree programs in science and technology, engineering, computing, forestry, business and economics, health professions, humanities, mathematics, social sciences, and the arts. The rural campus is situated just miles from Lake Superior in Michigan's Upper Peninsula, offering year-round opportunities for outdoor adventure.