Enterprise Students Help 3M Build a Better Taillight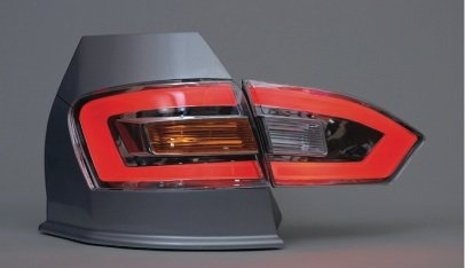 Most of us take pride in being able to see the fruits of our labor, basking in a job well done. Brett Spigarelli can bask in the red glow of a taillight going into production for the 2013 model year of several cars. A PhD candidate in chemical engineering at Michigan Technological University, he serves as an advisor to the Consumer Product Manufacturing (CPM) Enterprise, and previously, as a student, he worked on a project with 3M to test how one of their new materials handled the process of thermoforming, leading to the redesigned taillight on several 2013 model-year cars.
CPM and Blue Marble Security Enterprise tested 3M's Uniform Lighting Lens (ULL), investigating the optical properties of the material. Four years later, that material is now on the market and will be debuting on more cars in the near future.
The project was "a good example of getting students involved with problems of interest to industry," Spigarelli, an Iron Mountain native, said. "It's a lot of what you do when you get out there on the job."
ULL is designed to better disperse the light of LEDs (light emitting diode), increasing effectiveness while still enjoying the same energy savings compared to halogen bulbs. The challenge was in applying ULL, a film, in industrial applications and ensuring that it would hold up to the manufacturing process. This was where 3M asked Michigan Tech students to step in early in 2009.
The project ultimately involved more than 25 Tech students. According to Tony Rogers, faculty advisor to CPM, it is just one example of how the Enterprise Program brings industry experience to undergraduates.
"What impresses me most about CPM and the Enterprise experience are the opportunities for students to work directly with engineers and managers in industry," Rogers said. He added, "having experience with how things are done in the corporate world is invaluable to our students as they seek employment."
For Spigarelli, CPM's collaboration with 3M was a chance to help him find his career path. "In CPM, students get to try their hand at being a leader," he said. Thinking about his future options, he added, "Leading is one of my strengths."
Michigan Technological University is a public research university founded in 1885 in Houghton, Michigan, and is home to more than 7,000 students from 55 countries around the world. Consistently ranked among the best universities in the country for return on investment, Michigan's flagship technological university offers more than 120 undergraduate and graduate degree programs in science and technology, engineering, computing, forestry, business and economics, health professions, humanities, mathematics, social sciences, and the arts. The rural campus is situated just miles from Lake Superior in Michigan's Upper Peninsula, offering year-round opportunities for outdoor adventure.