The auto industry tends to be fiercely competitive. So what would bring multiple companies together on research projects?
How about the chance to direct the nature of the research and having access to the engineers, scientists and students doing it—and the final results?
That's what Michigan Technological University's new Light Duty Engine Consortium is offering, and three industry leaders have been quick to jump on board.
The consortium, part of the Advanced Power Systems Research Center (APSRC) at Michigan Tech, was launched late last year and has identified its first year's projects. General Motors, FCA US and BorgWarner are the initial industry partners.
"The idea was to get competitors to participate, so we needed to work on projects that would be mutually beneficial without giving anyone a competitive edge," explains Jeff Naber, consortium director and principal investigator. Naber is director of the APSRC and the Ron & Elaine Starr Professor in Energy Systems in Michigan Tech's Department of Mechanical Engineering-Engineering Mechanics.
Asking Industry, What Do You Need?
He and Jeremy Worm, a research engineer and technical coordinator of the consortium, turned straight to the source. They asked auto industry leaders what kind of research they most wanted. It turned out they wanted what Naber calls "hard deliverables"—research results—and they wanted input into the choice of projects.
"They didn't want to join a research consortium and not have a say in what projects were being addressed," says Worm. "They wanted research results that directly addressed their needs."
The companies had no dearth of suggestions. They proposed more than 40 projects, which Naber, Worm and the rest of the interdisciplinary faculty and staff of the APSRC helped them winnow down to five projects to address in the first year.
This year, the consortium is working on:
Advanced boosted engine cycle.
Assessment of instrumentation used for combustion analysis.
Advanced ignition studies.
How gasses move around in the cylinder in high-flow ignition systems.
Developing best practices for cylinder pressure data analysis.
Next year, the consortium will choose a new group of industry-proposed projects based on needs of the members at that time.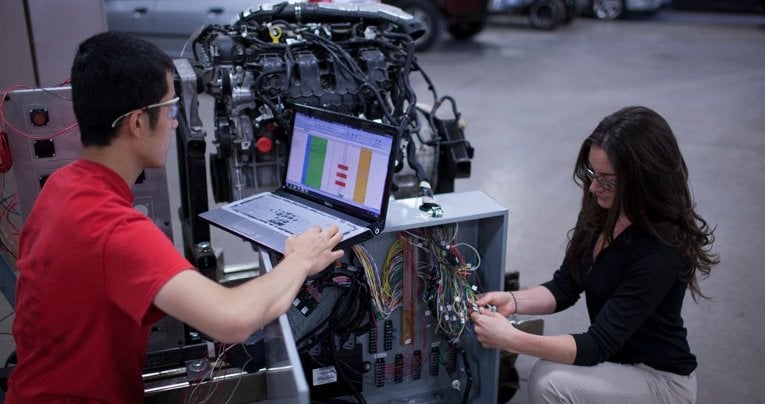 State-of-the-art Technologies
The APSRC is uniquely equipped to do this kind of research. It is a multidisciplinary facility with state-of-the-art laboratories supporting experiments in sub-system components, engines and full vehicle integrations. Labs include a unique, optically accessible combustion vessel, several dynamometer test cells, cold-start facilities, and a chassis dynamometer, to name just a few. Additionally, the center has been running a heavy-duty diesel engine aftertreatment consortium for the past four years.
"Participation in the Michigan Tech LD Engine Consortium allows GM to collaborate with the other consortium members on advanced research topics that impact the overall automotive industry," says James W. Walker, lead dyno development engineer at GM. "It also provides development opportunities for projects outside of our core business or that don't provide a key competitive advantage."
Richard S. Davis, GM technical fellow for spark ignition combustion, adds: "Participation in the Michigan Tech consortium will allow GM to leverage our research dollars while taking advantage of the established facilities and research strengths of Michigan Tech APS LABS."
And Chris Thomas, vice president and chief technology officer at BorgWarner, says: "As a global product leader in clean and efficient technology solutions for combustion, hybrid and electric vehicles, BorgWarner appreciates the collaboration opportunities the consortium provides with our industry peers and customers. It is one way to explore the cutting-edge technologies while promoting the core values of BorgWarner in STEM education."
Chris Cowland, director-advance and SRT powertrain engineering for FCA US, calls participation in the consortium "an investment in the future. We believe in Michigan Tech, its students, and our combined ability to identify and develop technologies that will benefit the greater good."
Funding Partners
Each industrial partner is putting $50,000 of funding into the consortium annually. Naber and Worm plan to continue to grow the consortium to a maximum of 6 to 8 industry partners, with each contributing funding and research concepts. As the consortium grows, the faculty, staff and students at APSRC will be able to take on more projects, and the benefits to the industry partners as well as the researchers and students will multiply, the consortium leaders say.
"We want to help our industry partners leverage both funding and facilities," Naber explains.
"This newest industry consortium at Michigan Tech underlines our commitment to not only support our industry partners, but also bring them together around common goals and technologies in a collaborative research environment," says David Reed, vice president for research at Michigan Tech. "The Light Duty Engine Consortium within the APS Labs does exactly that. We're thrilled to welcome automotive manufacturers and their top tier partners into this consortium. The work done by the consortium will help advance the industry and continue to highlight the State of Michigan as the home for innovation."
Michigan Technological University is a public research university founded in 1885 in Houghton, Michigan, and is home to more than 7,000 students from 55 countries around the world. Consistently ranked among the best universities in the country for return on investment, Michigan's flagship technological university offers more than 120 undergraduate and graduate degree programs in science and technology, engineering, computing, forestry, business and economics, health professions, humanities, mathematics, social sciences, and the arts. The rural campus is situated just miles from Lake Superior in Michigan's Upper Peninsula, offering year-round opportunities for outdoor adventure.