Class Notes
Class Notes
What's up with you? Submit your own class note and photo by emailing us at techfund@mtu.edu.
1940s
Edward O. Falberg '43 (Metallurgical Engineering) died September 10 in Traverse City. He was a captain in the US Army Corps of Engineers in World War II, earning a Bronze Star, and spent most of his career with Gulf & Western Industries, retiring in 1982 as president of the metals group. Along with his wife, Jeanne, he was an avid sailor and loved travel and flying. Falberg received the Board of Trustees Silver Medal and the Distinguished Alumni Award and served ten years on the Michigan Tech Fund Board of Directors.
An endowed scholarship in memory of Kern Chandler Jackson '47 '52 (BS, MS, Geology) has been established in the Department of Geosciences at the University of Arkansas in recognition of his outstanding teaching career. Jackson passed away in 2008 after a thirty-year career on the faculty of the University of Arkansas.
1950s
Art Viens '58 (Chemical Engineering, Business Engineering Administration) has received the James E. Trethewey Distinguished Service Award, given by the Upper Peninsula Sportswriters and Sportscasters Association. During his more than forty-five years of dedication to athletics at Kingsford High School, he served in many capacities, including as a scorekeeper and record keeper, and oversees operations of the Flivver Field press box.
1960s
David W. Smith '67 (Business Administration) retired as mayor of the City of Newark, California, after serving thirty-four years in that capacity. Smith won sixteen consecutive mayoral elections, and at the time of his (voluntary) retirement, he was the second-longest serving mayor in the United States.
John Bretney '69 (Applied Physics) has coauthored a book, Rock Art at Little Lake: An Ancient Crossroads in the California Desert, published by the Cotsen Institute of Archaeology at the University of California at Los Angeles. He continues to work as an engineering fellow on LADAR imaging at Raytheon in El Segundo, California.
1970s
Tom Spence '70 (Metallurgical Engineering) has retired from Flowserve after forty-one years as director of materials engineering. Tom and his wife live in Springboro, Ohio.
J. B. Hoyt '74 (Business Administration) has retired from Whirlpool Corporation after a thirty-six-plus-year career. His experiences included strategic planning, worldwide mergers and acquisitions, supply chain, and government relations. J. B. serves as chairman of the board of United Federal Credit Union, a full-service financial institution with offices in six states. He continues to provide consulting in the areas of sustainability and strategic planning.
1980s
Duane Mariotti '80 (Electrical Engineering) has relocated to Orange County in Southern California. He is employed as a clinical (biomedical) engineer with Kaiser Permanente Healthcare. He has three adult children: Melanie, 26, Melissa, 24, and Matthew, 19.
Roger Markham '85 (Technology) is human resources manager for the City of Gaylord. His wife, Paula (Hainault) Markham, is the daughter of the late mechanical engineering professor Paul Hainault. Their daughter, Alice, is a Tech freshman studying business administration and marketing.
Stacey Keener '88 (Computer Science) received her twenty-five- year pin this year for her length of service to NASA.
This from Jayne (Reuschel) Nitz '88 (Computer Science): "I don't know if Tech likes to hear about it when graduates stray from the math/science path (Editor's note: we don't mind at all.), but after four years in computer science and many years as a professional mother, I started a new part-time occupation when I began songwriting in 1999. My Christian contemporary songs appear on five of Christian singer Chris Driesbach's CDs. Also, my choir song, "Come To the Table," was published by Northwestern Publishing House in 2010."
1990s
Laura and Peter Elzinga '92 (Civil Engineering) announce the birth of a son, Cort Brennan, born on July 2, 2013.
Jeffrey Haas '93 (Computer Science) was promoted to distinguished engineer at Juniper Networks.
Vicki (Lay) Stuettgen '93 (Civil Engineering) has recently accepted the position of director of supply chain with First Quality Tissue in Anderson, South Carolina.
Dan Wagner '94, PE, (Environmental Engineering) has been named director of engineering for Gourdie- Fraser, a civil engineering consulting firm located in Traverse City. He will be responsible for directing the projects and services of their engineering department, where he will apply his twenty years of civil engineering experience gained working on hundreds of projects primarily throughout northwest Michigan.

Charlie Kinzel '95, PE, (Electrical Engineering) has opened Brewery Terra Firma with Master Brewer John Niedermaier. One of only a handful in the country, this is Michigan's first agriculture-based brewery: a modern brewery located on a legacy farm providing beer made with ingredients grown on site. The facility incorporates heat reclamation and applies brewery effluent to the land for crop fertilization and irrigation.

Kevin '97 (Mechanical Engineering) and Jodi (Cianek) '00 (Chemical Engineering) Britton welcomed their second daughter, Julia Rose, on August 17. She joins big sister Claire. Kevin is now a Six Sigma Black Belt at Hemlock Semiconductor Corporation.
Jason Yanity '97 (Chemical Engineering) has been promoted to operations manager at Outbound Technologies in New Hudson.
Matthew Prater '98 (Mechanical Engineering) married Nicole Erickson, from Cokato, Minnesota, in June. The couple is moving to Pittsfield, Massachusetts, where Prater recently accepted a position as senior counsel, intellectual property at SABIC Innovative Plastics.
Laura and Tim '99 Bindon (Mechanical Engineering Technology) welcomed their second son, Foster Jude, on October 30. He joins big brother Hudson Timothy (born March 18, 2012).
Erin and Steven '99 Ducat (Civil Engineering) gave birth to their second child, son Emmett Christopher, on August 9.
2000s
Matthew Sohrweide '01 (Business Administration) has earned an MBA from the University of Wisconsin– Oshkosh with an emphasis in project management and entry to the International Honor Society Beta Gamma Sigma on December 18, 2010. He was also named the 2010–11 UW-Oshkosh MBA Outstanding Graduate.

Amber (Harris) Kumpf '02 (Applied Geophysics) and her husband, Rob, welcomed their first child on June 13, 2013. Liam Mitchell was 21 inches long and weighed 7 pounds, 13 ounces. They reside in Norton Shores, where Amber teaches geology and oceanography at Muskegon Community College.

Roland N. Alix '03 (Civil Engineering) has been elected to the Board of Directors of Hubbell, Roth and Clark as a full partner. HRC is a professional consulting civil engineering firm that represents municipal and government agencies across the Lower Peninsula.

Jim and Erica (Valencia) '03 McDonald (Chemistry) welcomed their first son, Jack David, born October 6.
Matt and Bridget '03 '04 Walsh (BS, MS Environmental Engineering) welcomed their son, Liam Matthew, on October 26. Liam was 9 pounds, 8.7 ounces, and 22.5 inches long. His older sisters, Keira and Bebhinn, are very excited to have a baby brother.
Sean A. Tabacsko '04 (Mechanical Engineering) married Kristi L. Morse on June 15, 2013. Sean works for OHM Advisors in Saginaw as a project manager. Kristi is a special education teacher in the Saginaw Intermediate School District. The couple resides in Freeland.

Heather Wiitanen '05 (Scientific and Technical Communication) is happy to announce the arrival of Vienna Leelizabeth, born May 27, 2013.
Cindy '06 (Environmental Engineering) and Carl '06 (Mechanical Engineering) Jarema welcomed their second son to the world July 16, 2013.
Jillian Rothe '06 (Mechanical Engineering, Business Administration) has accepted a new position within Cat Insurance to become its first power systems–focused rep for all of Asia and Australia. She has moved to Singapore.

Jessica Lynn Engwis '08 and Charles Joshua Swan '08 (both Electrical Engineering) were married on October 12. Jessica is a software design leader with General Motors in Milford. Charles is employed by General Motors as a design engineer in Pontiac. The couple resides in Farmington Hills.
Patrick '07 (Civil Engineering) and Kaari (Nevanen) Flannery '09 '10 (Mechanical Engineering, MBA) were married July 6, 2013, in Duluth, Minnesota. The couple lives in the Minneapolis metro area.

Sadie and Andrew Wiltshire '09 (Mechanical Engineering Technology, Business Administration) announce the birth of their daughter, Josephine "Josie" James, born December 18.
2010s
Dan '11 (Mechanical Engineering) and Ashby '11 (Gleichman) Mizell (Biological Sciences) announce the birth of Troy Daniel on November 26.
Amanda Nerg '10 (Business Administration) is pursuing her master's in acquisition and contract management at the Naval Postgraduate School in Monterey, California, and is conducting research for her thesis related to her career in contracting. She will graduate in December and move on to her next assignment in the Air Force. "I am very thankful for the education I received at Michigan Tech. Without it, I don't believe I would have been competitive enough in the application process and probably would not have been able to enjoy this wonderful opportunity now," she says.

Alyssa and Steven '10 Tangney (Mechanical Engineering Technology) welcomed daughter Addison Avarie to their family September 20. She was 7 pounds, 11.5 ounces, and 20.25 inches long.
---
Transitions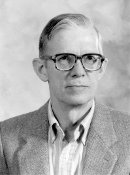 Kenneth Kraft
1930–2014
Professor Emeritus of Biological Sciences Ken Kraft, 83, passed away January 12 at his Chassell Township home.
Township home. Kraft's research was in invertebrate ecology, particularly in aquatic environments. His career at Michigan Tech began in 1961, in the Forestry Department, where he taught zoology. He joined the biological sciences department when it was formed in 1962 but rejoined the forestry faculty before retiring in 1996.
"He was a very soft spoken gentleman who had a great smile," said longtime staff member Pat Asselin. "He was a pleasure to know and work with."
Kraft was instrumental in setting up Tech's first research program on Lake Superior through his connections with faculty at the University of Minnesota–Duluth. "He was the nicest guy I knew," said Professor Emeritus Jim Spain, also of biological sciences. "We did work together on Lake Superior. We once took a boat and a student to Rabbit Island to find a heron rookery. Well, we searched all over and couldn't find it. We went back to the boat to discover that we had parked it right underneath the rookery."
Kraft was one of the founders of the Unitarian Universalist Fellowship in Houghton, according to fellow church member Harriet King. "He served as president, did our newsletters, and always brought fresh eggs from his farm," she remembered.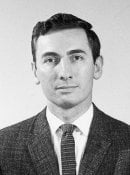 Keith M. Baldwin
1928–2014
Keith M. Baldwin, 85, passed away January 16, at Marquette General Hospital.
Baldwin came to the Michigan College of Mining and Technology in 1963 as an associate professor of physics. In the early 1970s, Baldwin also worked at the Keweenaw Research Center on vehicle research projects and helped secure contracts for vehicle testing. After early retirement from Michigan Tech in 1984, he partnered with the University to form KMB/Tech, developing lab equipment for physics teachers.
Don Daavettila, professor emeritus of physics, knew him well. "He was very interested in his subject and a very good teacher," he said. "I enjoyed knowing him very much. Keith was a good guy."
Physics Professor Don Beck recalled his teaching ability. "I remember him saying that he liked teaching C and D students especially because he was able to see how much they learned as they progressed through his courses."
Baldwin graduated from Michigan State University in 1950 with a degree in physics and was commissioned upon graduation as a second lieutenant in the US Army. After his discharge he attended the University of Maine–Orono, receiving a master's in physics in 1955.
Retirements
The following faculty and staff retired from Michigan Tech recently. The years they first came to Tech are listed below.
Becky Christianson, interim director of employment services, Human Resources, 1978
Michael D. Dube, equipment operator II, Facilities Management, 1979
Walter M. Gorr, custodian, Facilities Management, 1991
Carol J. Janisse, office assistant 5, Innovation and Commercialization, 1993
Rosella M. Juntunen, senior staff assistant, Institutional Equity, 1968
Ruth I. Kramer, engineer/scientist/ academic advisor, Materials Science and Engineering, 1984
Steven R. Seidel, professor, Computer Science, 1984
JoAnne Stimac, administrative aide, Mechanical Engineering– Engineering Mechanics, 1999
Calvin L. White, professor, Materials Science and Engineering, 1986
---
Memoriam
The Michigan Tech family extends condolences to the relatives and friends of those who have passed away.
1939

Clarke K. Olson

1941

Nicholas A. Campagna Sr., PE
Kenneth W. Dry
Milton J. Verville

1942

Leslie W. Pullen, PE
W. Dean Robinson

1943

Warren W. Johnson
Harold A. Roscoe

1944

Robert W. Hass

1946

Richard S. MacGregor

1948

Gerald J. McCarthy
Genevieve A. Tretheway

1949

Clarence W. Ahlstrom, PE
Charles Albertson
Karl F. Dudey
Leo N. Fry

1950

Robert L. Anderson
Giles M. Crabtree
Richard R. Kesti
Dr. Earl R. Lind
Alfred E. Pearson, PE
John Ryznar Jr.
Frank P. Taucher
Robert J. Wenk
Dr. Dean N. Williams

1951

Peter A. Goudreau
Richard G. Ruffe

1952

Wendel J. Clifford
Cletus L. Courchaine, PE
David H. Lazarus
Jack B. Reynolds
Edmond I. Swensen

1953

A. Kristian Jensen
Edgar D. Robinson
Boris G. Stasuk

1954

Arbutus E. Raisanen, PE
Douglass Seeber
Donald R. Wehner

1955

Cass W. Gaska
William C. Hansley

1956

Janice M. Baudino
John D. Gruner
Dr. Nicholas J. Nigro
John M. Poole
John P. Wahlman

1957

Loren D. Carlson
Allen E. Pudvan
Dr. Duane L. Starner

1958

Ramon L. Bugliosi
Dr. Richard I. Hendra
Kenneth A. Waisanen

1959

Robert F. Miller
John G. Nelson
John A. Sullivan

1960

Richard M. Aubry
John P. McKay

1961

Robert G. Hilker
James F. McMan
Clifford G. Reed
C. Jay Wright

1962

Richard H. Giebner
Jack Hansmann
Melvin C. Nietopski

1963

Norman E. Benson
Richard L. Grinn
Gerald W. Miller, PE

1964

Dr. Gerald P. Lawson
Roger D. Manninen

1965

J. Robert Thompson

1966

C. Kerry Barnum
Eric B. Mahringer
Les H. Rajala
Frederick J. Smith

1967

Edward G. Caterer
Roland C. Oinas
Jon C. Wickstrom
John D. Windemuth

1969

Roger E. Laub Jr.
Terence L. Tansey

1970

Roger A. Carl

1971

Karen J. Buck
George J. Mrosz

1972

Roger M. Bula
Michael J. Guzek
Joyce L. Lyth
John A. Vary

1973

Robert J. Borges

1975

Donna G. Hoganson

1976

Janet R. April

1977

Joseph L. Butler

1978

David E. Rootes

1981

Michael J. Erdman

1985

Steven W. Brewer, PE
Gary S. Gielincki
Rev. Kimberly A. Parrott

1987

Earl R. Alexander Jr.

1988

David A. Gibson
Deborah J. Pifer

1990

Jon A. Jackson
Karen S. Rheault
Todd B. Stuntzner

1995

Roseanne Mills

1998

Joellyn K. Zolnoski

2007

Nathan E. Henry
Michigan Technological University is a public research university founded in 1885 in Houghton, Michigan, and is home to more than 7,000 students from 55 countries around the world. Consistently ranked among the best universities in the country for return on investment, Michigan's flagship technological university offers more than 120 undergraduate and graduate degree programs in science and technology, engineering, computing, forestry, business and economics, health professions, humanities, mathematics, social sciences, and the arts. The rural campus is situated just miles from Lake Superior in Michigan's Upper Peninsula, offering year-round opportunities for outdoor adventure.