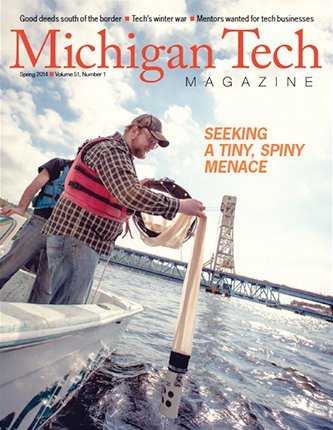 PhD student Martin Hobmeier samples the waters of Portage Lake for the spiny water flea, an invasive exotic species. He is aided by Research Associate Foad Yousef. Photo: Sarah Bird.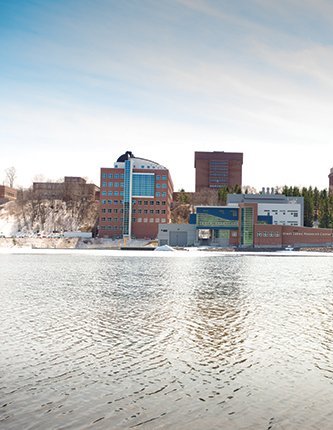 Winter stayed late at Tech this year. Sarah Bird captured this photo in April.
---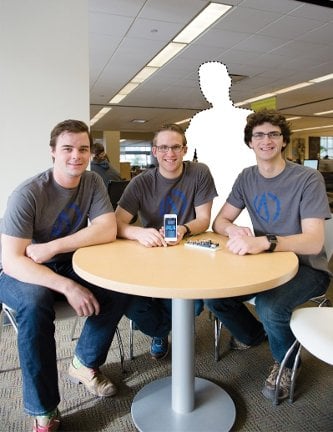 Michigan Tech is a mother lode of innovation, a gadget-y geyser of creativity and imagination. But moving these innovations to the market requires a team of individuals with complementary interests, experiences, and expertise. Michigan Tech has a deep bench of talented scientist-inventors looking to make connections with others who can round out their teams and help them move forward on commercializing early-stage technologies.
The fledgling entrepreneurs on the following pages are looking for a special kind of missing person: mentors, advisors, and partners with the business acumen to help shepherd their new ideas through the Valley of Death that lies between a cool discovery in the lab and successful commercialization.
That missing person may be you. If your passion is nanotechnology, health, auto safety, or killer apps, you may want to connect with one of these inventors. If something else lights your fire, get in touch. Chances are, somebody at Michigan Tech is working on it.
---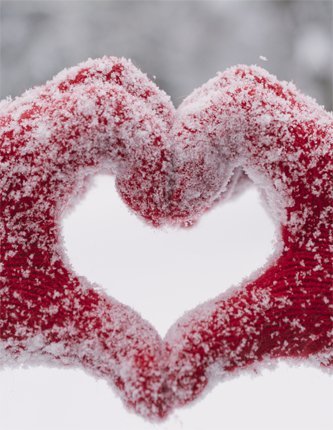 Mike Paddock '87 '88 calls his volunteer work in Central America "almost like an addiction." "I've learned so much," says grad student Kelli Whelan '10 of her efforts in Guatemala.
It's not uncommon for students and alumni from the chilly north to travel to Latin America and other developing regions with the aim of helping people wracked by poverty, disaster, and war. What is sometimes unsaid is the degree to which these selfless acts rebound upon the givers.
Many Michigan Tech people insist they have been enriched more than they can measure by their humanitarian efforts. Here are three of their stories.
---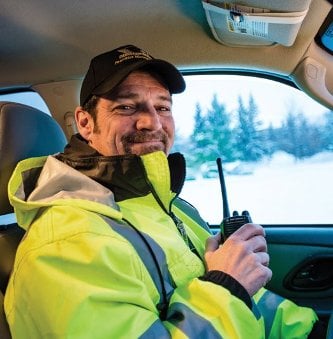 by Kevin Hodur '13
Pete Pelissero takes a swig from his coffee mug and flips on the utility lights of the small SUV as we drive up the hill between the McNair and Wadsworth residence halls. He isn't worried about the robotic warning of an incoming storm crackling in over the radio. "We've got plenty to do today. We can worry about tomorrow in the morning."
Pelissero has a knack for understatement, something that comes through as he talks about his crew.
"They take care of all of the snow removal on campus beyond six feet from buildings, and they deliver freight, move furniture, collect recycling . . .
---
by Marcia Goodrich
The zooplankton never saw it coming.
Well, perhaps it would be more correct to say that they never smelled it coming.
These tiny, eyeless water creatures recognize predators by their scent, and zooplankton in the Upper Midwest have never added the spiny water flea to their stink list. The results have been catastrophic.
"The word I use is blindsiding," says limnologist W. Charles Kerfoot. "When Bythotrephes longimanus was introduced here from northern Europe thirty years ago, the native species were totally oblivious to it."
They still are, which is why the spiny water flea, aka Bythotrephes (pronounced BITH-oh-TREH-feez) is devouring its way through . . .
---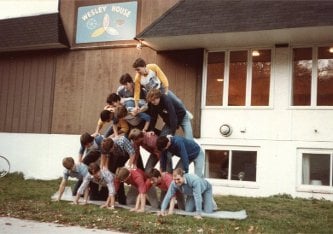 by Terry Reynolds and Erik Nordberg '13
Named for John Wesley, the eighteenth-century founder of Methodism, the germ for the building's construction dates back more than fifty years. In 1957, James "Jim" Jones and Carl Schjonberg, faculty in the Department of Electrical Engineering and members of local Methodist congregations, met with a group of students to discuss sponsoring a house. It would be like a fraternity, but with rules appropriate to their religious faith.
The national Methodist Church had traditionally sponsored "Wesley Houses"—gathering places and programming centers for its college ministries. Jones, Schjonberg, and other interested local Methodists received encouragement from the church's Detroit Conference, but no direct funding. But the promoters gathered enough local sponsors and, in September 1957, purchased a house near the University for the project.
This first Wesley House sat near the Memorial Union on Hubbell Street in what was at that time a residential neighborhood. Jones and . . .
---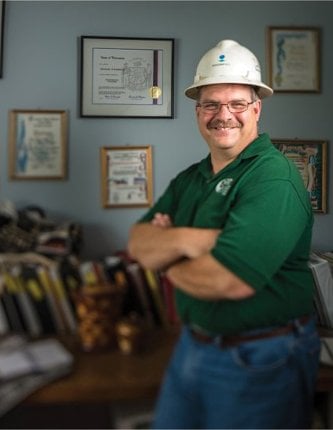 by Nicole Sweeney Etter
Babies were dying. The scarce water available to La Garrucha, Guatemala, was often rationed, and what remained was tainted with animal droppings and other contaminants—a problem that could have fatal consequences.
So villagers enlisted the help of civil engineer Mike Paddock, PE, PS, and engineering students he mentored at Milwaukee's Marquette University. Their mission: to build a new water system that could capture and purify water from a spring fourteen miles away. The end result delivered twenty-one gallons of clean water a day for each person and much more: it increased school attendance because children no longer had to spend time fetching water and firewood to boil contaminated water, reduced deforestation, and lowered the infant mortality rate.
Those are the sorts of rewards that drive Paddock, a board member of Engineers Without Borders–USA (EWB-USA), to commit every spare minute to using his engineering skills to help rural communities abroad. Over the past decade, Paddock has designed and/or built more than seventy-five projects, from water systems to schools to bridges, in Ghana, Guatemala, Nicaragua, and Bolivia. He travels, mostly to Guatemala, five or six times a year as a mentor to student chapters of EWBUSA and . . .
---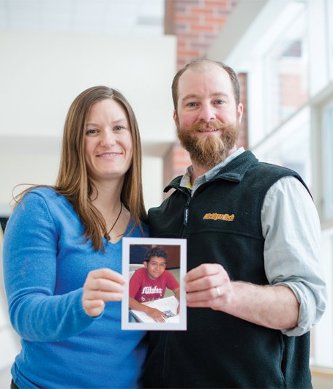 by Jennifer Donovan
Michigan Tech graduate students Hans Lechner and Emily Gochis were exploring the streets of the tiny, impoverished Salvadoran village of San José las Flores when they heard music booming from a little house. Someone was singing at the top of his lungs—in English.
The Peace Corps Master's International (PCMI) student and his wife couldn't resist checking it out.
That's how they discovered Marvin Rene Huezo Mendoza. The seventeen-year-old was sitting in a room plastered with art, singing along with the Doors. But to greet Lechner and Gochis, he had to crawl across the room.
Marvin was disabled from a bout with polio when he was two. His family couldn't afford crutches, let alone a wheelchair.
---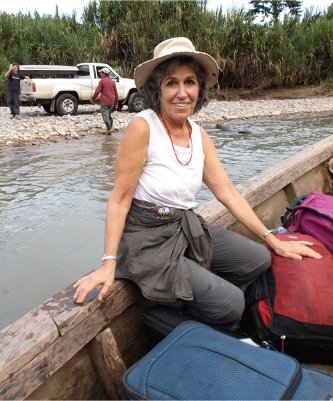 by Danny Messinger '12
Sue Ellen Kingsley was on a mission: her friends were in dire need of clean drinking water and had asked for her help.
It was 2006, and she had just returned home to the Copper Country from a small village in northwestern Guatemala, where she had been working as an accompanier. "Accompaniment programs bring in people from privileged countries to provide space for native people to do what they need to do, even when their home country is in turmoil," she explains. "There's much less danger of violence from the government and military when there are accompaniers present."
People in her community needed more than peace and safety; they also needed good wells, so she brought word to Michigan Tech's civil and environmental engineering department.
Coincidentally, a new student chapter of . . .
---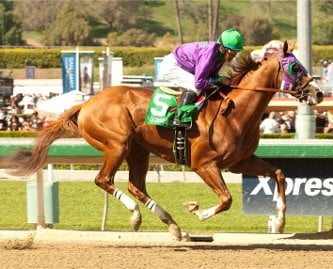 Even if you don't know a furlong from a fetlock, you've probably heard that California Chrome, pictured above, won the Kentucky Derby and the Preakness but lost his bid for the Triple Crown in the Belmont. . .
---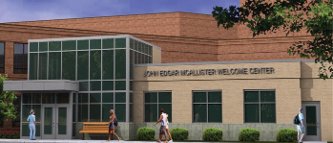 ---

---
---
---