1400 Townsend Drive.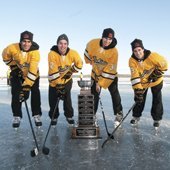 The Huskies returned from Detroit with the MacInnes Cup and celebrated by skating with it on Portage Lake. Pictured, left to right, are four of the team's freshmen: Jujhar Khaira, Malcolm Gould, Jamie Phillips, and Alex Petan.
Huskies claim MacInnes Cup as 2012 GLI Champs
Michigan Tech claimed its tenth Great Lakes Invitational title at Joe Louis Arena last December, with a 4–0 victory over Western Michigan University. The Huskies' Pheonix Copley became just the second goaltender in GLI history to post back-to-back shutouts. He was named the winner of the John MacInnes Trophy as the tournament MVP.
The MacInnes Cup, given to the GLI champion, is in the possession of the Huskies for the first time since 1980, when head coach Mel Pearson was a player.
"I'm enjoying this more as a coach. You realize you're representing not only your team, but your university and community," said Pearson. "I couldn't be more proud of our guys. We went out, played as a team, and earned this. It's special."
Score! SDC to get a new video scoreboard
Michigan Tech's John J. MacInnes Student Ice Arena will soon offer Huskies fans an enhanced viewing experience: a new, $615,000 video scoreboard is scheduled to be installed over center ice this summer.
Mitsubishi Electric Diamond Vision has begun building the custom four-sided scoreboard. Each side of the unit will measure approximately 15 feet high by 14 feet wide and will feature a main video screen as well as secondary viewing areas. Funding for the project came exclusively from private donors.
"Video boards are the standard in Division I hockey, and we're thrilled to be able to make this enhancement to our fan experience," said Michigan Tech Athletic Director Suzanne Sanregret. "We will be able to provide our fans with game replays, highlights, and information."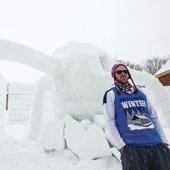 Austin Kuttruff, one of the three statue chairmen responsible for designing the winning diorama and leading its construction. Photo by Mark Riutta
Students find artistic powers in Winter Carnival's frozen hours
The Incredibles animated movie was the inspiration for a winning statue in the 2013 Winter Carnival month-long competition. Phi Kappa Tau took first in the fraternity division for their heroic sculpture of mighty size and chiseled detail.
This year's cool creations were based on the theme "Heroes and villains find their powers, in these frozen winter hours."
Phi Kappa Tau's incredible statue featured windows, chains, a mailbox, a baby in a high chair, and much more rendered in clear ice, which accented the larger scene of a superhero family working together to save the world.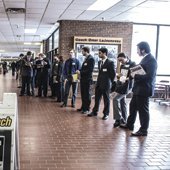 Spring Career Fair: 1, UP blizzard: 0
Michigan Tech students weren't about to let a snowstorm dampen their enthusiasm on Career Fair day. (After all, Blizzard is our mascot.) In true Tech spirit, students and employers alike soldiered on to the Student Development Complex.
Representatives of 203 companies and hundreds of students tenaciously braved the February blizzard that produced 40 mph winds and dumped twenty-plus inches of snow on Houghton in two days. Though classes were cancelled from noon on due to the weather, the Tech Facilities staff gave their all to clear the SDC parking lots and pathways. They also kept a shuttle bus running to get students to this all-important chapter in their Tech life.
When all was said and done, more than 2,000 interviews were scheduled.
Michigan Technological University is a public research university founded in 1885 in Houghton, Michigan, and is home to more than 7,000 students from 55 countries around the world. Consistently ranked among the best universities in the country for return on investment, Michigan's flagship technological university offers more than 120 undergraduate and graduate degree programs in science and technology, engineering, computing, forestry, business and economics, health professions, humanities, mathematics, social sciences, and the arts. The rural campus is situated just miles from Lake Superior in Michigan's Upper Peninsula, offering year-round opportunities for outdoor adventure.