New on Campus
Fresh programs and places enhance Tech academics and quality of life.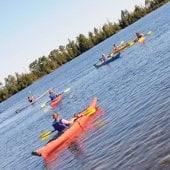 Go outside and play!
As great as the great outdoors may be, plenty of Tech students never got to enjoy it. The Outdoor Adventure Program changed all that in 2006. Now students (and other people, for that matter) can rent all manner of outdoor equipment, from mountain bikes to sleeping bags to kayaks, at affordable prices. Students can also take advantage of low-cost canoe trips, snowshoe hikes, and more.
---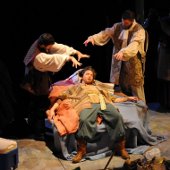 Now everyone can "Experience Tech"
What fun is a ski hill if you can't afford the lift tickets? Thanks to Experience Tech, empty pockets are no obstacle when it comes to campus entertainment.
The idea took root in students' imaginations in fall 2007 and was made real a year later. For a fee of $64 a semester, students attend hockey games and Visual and Performing Arts events, play tennis at the Gates Tennis Center, get involved in intramural sports, ski at Mont Ripley, and golf at Portage Lake Golf Course for no extra charge. For comparison, a one-day lift ticket at Mont Ripley is about $35.
The fee helps to underwrite the Experience Tech programs. And it also does what the founders had hoped. Participation in student activities has boomed since the program took effect.
The Wall Street Journal picked up on Experience Tech in the article "Six College Perks that Might Make You Jealous."
---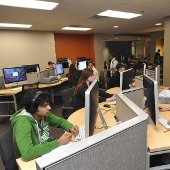 A lab for the 21st century
Ron Strickland, chair of the humanities department, calls it "a national model for labs in the twenty-first century."
When the Humanities Digital Media Zone, or HDMZ, opened in April 2011, it consolidated the old Modern Language Lab and Center for Computerized Language Instruction into a technology-rich and people-friendly space that now routinely holds dozens of students.
No wonder it's so popular, what with the high-end PCs and Macs, a digital media studio, laptop classroom, private recording and listening rooms, and lots, lots more.
The $550,000 facility is funded by the humanities department, student fees, and private donations.
---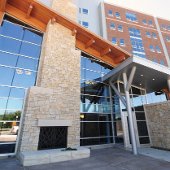 Hillside Place has received a LEED Gold Award from the US Green Building Council, for Leadership in Energy and Environmental Design.
Hillside Place: the high life
It looks pretty fancy, and it is, at least compared to dorms in the days of yore. But staying in this six-story student apartment dwelling costs no more than living in a residence hall and gives another on-campus housing choice for juniors, seniors, and graduate students.
The first residents of Hillside Place moved into their apartments in fall 2010. The forty-eight four-person suites feature granite countertops and stainless steel appliances. In the lobby, you can curl up in front of the fireplace or whip up a snack in the common kitchen.
Hillside Place fills a need for many students. "Many prefer to live on campus," said Les Cook, vice president for student affairs. "They want a quality, safe living experience, and this certainly accomplishes that."
---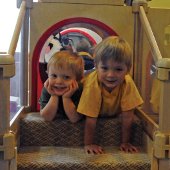 On-campus childcare, preschool for "Little Huskies"
When it opened in summer 2007, the Little Huskies Child Development Center was a dream come true for many parents—and for advocates within the Michigan Tech community. "Attracting and retaining top people involves offering services they need, and quality childcare is one of them," said Vice President for Administration Ellen Horsch, a longtime proponent of the center. "Little Huskies has been good for our people, so it was a strategic business decision."
The center's director, Eva Hatfield, couldn't agree more. "Quality childcare is extremely important. I know of faculty who said that Little Huskies was a major factor in their decision to accept positions at Tech."
The center is accredited by the National Association for the Education of Young Children and is licensed to care for up to sixty children, from infants to preschool. Located near the Student Development Complex, it caters primarily to the Michigan Tech community.
Michigan Technological University is a public research university founded in 1885 in Houghton, Michigan, and is home to more than 7,000 students from 55 countries around the world. Consistently ranked among the best universities in the country for return on investment, Michigan's flagship technological university offers more than 120 undergraduate and graduate degree programs in science and technology, engineering, computing, forestry, business and economics, health professions, humanities, mathematics, social sciences, and the arts. The rural campus is situated just miles from Lake Superior in Michigan's Upper Peninsula, offering year-round opportunities for outdoor adventure.