The Knowledge Builders
The heart of any great university is its faculty, who create new knowledge and inspire generations of students.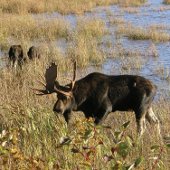 50 years and counting: understanding wolves and moose
Michigan Tech researchers John Vucetich and Rolf Peterson lead the world's longest predator-prey study, an in-depth look at the wolves of Isle Royale and moose, their main source of food. Peterson began working on the study as a graduate student in the 1970s and now holds the Dick and Bonnie Robbins Chair in Sustainable Management of the Environment.
Vucetich let New York Times readers share in his Isle Royale adventures through his "Scientist at Work" blog.
---
Associate Professor Tim Scarlett leads a tour at the Cliff Mine archaeological dig, located near the small town of Phoenix about twenty-six miles north of Michigan Tech.
Industrial archaeology: new insights into bygone technology
Michigan Tech's archaeology faculty members specialize in remnants of the Industrial Age. They have studied coal mines above the Arctic Circle, sugar plantations in the Caribbean, and the Keweenaw's first successful copper-mining venture of the modern era, the Cliff Mine.
Alumni and friends of the department help fund a number of projects, and they have made all the difference. In addition to supporting research, they have underwritten $100,000 in renovations to the old building known as the Annex.
"We have some really loyal friends and alumni who have been consistently generous," said Patrick Martin, chair of social sciences and the leader of an extensive dig at the West Point Foundry, a Civil War–era industrial complex in upstate New York. "They've enabled us to accomplish many things, most of which have led to the success of our students."
---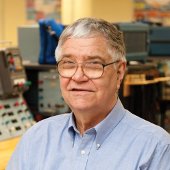 Professorship to honor Wiitanen
A new endowed professorship will carry the name of longtime electrical engineering professor Dennis Wiitanen.
Wiitanen has been "tremendously influential," said Dan Fuhrmann, chair of electrical and computer engineering. "He has been an effective educator, active researcher, and indefatigable proponent of the power systems program."
Funding for the Wiitanen Professorship in Electrical Energy Systems comes primarily from industry partners Detroit Edison, Consumers Energy, Xcel Energy, Upper Peninsula Power, and Wisconsin Public Service.
---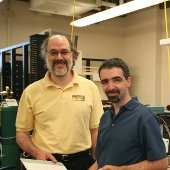 Jeff Allen, John and Joan Calder Associate Professor of Mechanical Engineering
For their pioneering work to improve water management in low-temperature fuel cells, Jeffrey Allen and his PhD student, Ezequiel Medici, were the first winners of the Bhakta Rath Research Award, in 2010.
"I am honored and grateful to be one of the inaugural recipients of this prestigious award," Allen said. "However, the credit for the success of this research belongs to Ezequiel."
Funding from the Calder professorship helps to make their work possible. "It's a measure of trust in the quality of my research, and I'm very honored by it," Allen said. "It also enables me to take risks, and that has propelled some of my most important discoveries."
---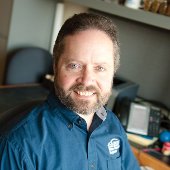 2011 Distinguished Teaching Award winners
Every year, Michigan Tech honors two of its finest teachers.
Associate Professor Brian Barkdoll, Civil and Environmental Engineering
Brian Barkdoll works diligently on his teaching and establishing rapport with students, and it shows. His students say:
"He is dedicated to his students in and out of class."
"He is a one-of-a-kind professor, with a unique and effective teaching style, who inspires us to go out into the world and make positive changes."
"He is by far the best teacher I ever had at Michigan Tech."
"He is the man!"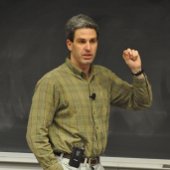 Senior Lecturer Mike Meyer, Physics
Mike Meyer focuses on the introductory physics classes and labs, using the latest pedagogy and technologies, including online courses. The students say:
"I've never had a teacher who cared this much about helping everyone succeed."
"He is the friendliest, funniest, and most enthusiastic professor I've ever had."
"He provides an education well worth the money I pay."
---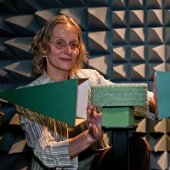 Metamaterials scientists seek invisibility cloaks, superlenses
Elena Semouchkina, an associate professor of electrical and computer engineering, has found ways to capture rays of light and route them around objects, a first step toward rendering them invisible. She uses metamaterials, which are artificial materials having properties that do not exist in nature. In computer simulations, her cloak made objects hit by infrared waves—approximately one micron (or one-millionth of a meter) long—disappear from view.
A superlens would let you see a virus in a drop of blood and open the door to better and cheaper electronics. It might, says Durdu Guney, an assistant professor of electrical and computer engineering, make ultrahigh-resolution microscopes as commonplace as cameras in our cell phones. But to make a superlens, you have to overcome the diffraction limit, a natural limit on the magnification power of optical lenses. Using metamaterials, Guney has done just that, modeling a superlens that could use visible light to see objects smaller than 1/1,000th the width of a human hair.
Michigan Technological University is a public research university founded in 1885 in Houghton, Michigan, and is home to more than 7,000 students from 55 countries around the world. Consistently ranked among the best universities in the country for return on investment, Michigan's flagship technological university offers more than 120 undergraduate and graduate degree programs in science and technology, engineering, computing, forestry, business and economics, health professions, humanities, mathematics, social sciences, and the arts. The rural campus is situated just miles from Lake Superior in Michigan's Upper Peninsula, offering year-round opportunities for outdoor adventure.